About Us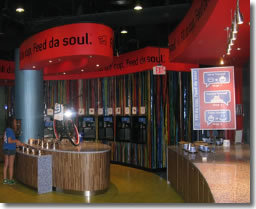 Yo Mon™ brand is an all natural tart, tasty and self-serve frozen yogurt with nonfat and lowfat flavors, containing active live cultures, with dozens of fresh seasonal toppings. Made from the finest ingredients, including live and active cultures, cane sugar, and natural flavors, Yo Mon yogurt nourishes your mind and body.
Yo Mon™ Frozen Yogurt is made by adding cultures to milk after pasteurization. The bacteria cultures convert the milk's sugar to lactic acid, and give yogurt its unique tart flavor and creamy texture. We add cane sugar to sweeten the final yogurt and to preserve its quality.
Smarter containers and furniture Yes, of course, we use recycled paper products for our serving cups. But even our tables are made from recycled milk container jugs!
Why Choose Yo Mon™
Yo Mon Frozen Yogurt Re-defines the Fro-Yo Concept.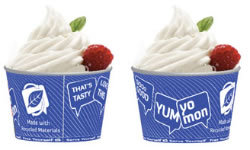 We're over the stark-white laboratory look and you should be too. Yo Mon has done extensive research into defining the ideal yogurt consumer. We have developed an interior and exterior environment that best suits those consumers, creating a relaxed and enjoyable experience that equates a profitable result.
We have allowed for the widest demographic (5-50) whereas our closest competitors have narrowed their reach by creating a highly stylized environment that is meant to please the age group of 18-30.
FAQ's
Do I need to have any prior experience in owning a retail or restaurant-type business to operate a yogurt shop?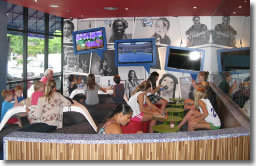 No. We understand that the majority of new franchise owners do not have prior experience in owning a business and the Yo Mon system provides all the tools you will need to be successful. Additionally, our team will be at your location as you open your shop.
How long will I be at training and what can I expect to learn?
Our initial training program consists of approximately two weeks of classroom and on-site training at a company owned location in Red bank, New Jersey. We request that you attend training, and we also invite your to bring your store manager. In addition, one of our representatives will be at your site for up to 5 days (to be scheduled around your opening).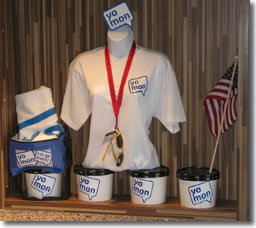 Your training program is intensive and includes: Recipes and Prep Procedures, Quality and Service Standards, Inventory Procedures, Equipment and Safety, Brand Compliance, Food Safety, and Sanitation and Health Code Compliance. The training program will ensure that you are ready to open and run your shop with complete confidence from day one.
Will you assist me with establishing my vendor relationships and initial inventory purchase?
Yes. Most of our product is purchased from the same vendor. In addition, we order all of our branded, paper goods in bulk, which you can purchase at considerably less cost then ordering on your own. In addition, we will assist and advise you during your initial opening inventory purchase.
This Yo Mon Yogurt franchise opportunity and other franchise business opportunities, businesses and franchises for sale on this web site are not to be considered as an "offering", "franchise offering", suggestion or recommendation by Franchise Leader™. This advertisement depends entirely on the truthfulness of the information provided by our advertisers which includes, but is not limited to, franchisers, franchise brokers, franchise consultants and business brokers. Franchise Leader™ recommends that you consult a lawyer, financial consultant, accountant or professional advisor before buying a franchise or business opportunity or any type of business. By using this form or any part of our website, you have agreed to all terms and conditions of Franchise Leader™. Please review our