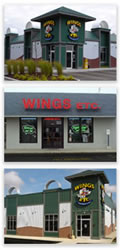 Wings, Etc. is a full-service restaurant and pub, offering award-winning jumbo wings, cold libations, smoked baby back ribs, pulled pork, chargrilled burgers, grilled chicken sandwiches, fresh salads, wraps, great side dishes, awesome appetizers and more—all in a fun, comfortable, family-friendly, sports-themed environment.
Our mission is to deliver the finest restaurant & pub experience in the industry. From the parking lot to the front door to the table and beyond, our guests will be treated better than family, and will be served delicious, made-to-order menu items that far exceed their expectations for "bar food."
Anything less is a failure to keep the unspoken promise made every time we open our doors, and puts at risk our integrity, our investment, and our opportunity for long term success.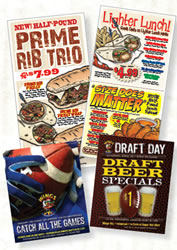 Just as efficient in an inline center as in a free-standing building, the Wings Etc. concept adapts to local market and real estate opportunities.
Recently, new Wings Etc. locations have been cost-effectively retrofit into existing restaurant and freestanding retail space, providing operators with lower break-evens, more rapid project development, and a faster track to Grand Opening.
This concept flexibility creates considerable advantages for franchi­sees who are finding abundant site options and favorable lease terms dur­ing the ongoing economic recovery.
From footprints as small as 3,000 to as large as 4,000 sq. ft., the Wings Etc. concept fits virtually any market condition and any retail trade area: small towns, big metros and every­thing in between.

In today's competitive food service environment, having the right system, the right team, and the right training makes all the difference. Wings Etc. provides comprehen­sive support from initial contact through site selection, buildout, pre-opening, grand opening and beyond.
Our development and operational support staff bring years of experi­ence in a wide range of retail and restaurant operations. That experi­ence translates into fewer surprises, less stress, and a more efficient use of your time and money.
Initial support includes site selection assistance, financing con­sultation, and hands-on training at a certified training site, where you'll observe and participate in the day-to-day operation of a success­ful Wings Etc. location.
Training will also include classroom-type sessions, where you'll learn and put into practice the processes outlined in our detailed Operations Manual and supplemental documents.
In a few short weeks you'll be­come a seasoned veteran of the Wings Etc. concept. And you'll be completely equipped to put a roster of managers and hourly employees in place, creating the team that can help you achieve your business objectives and financial goals
This Wings Etc. franchise opportunity and other franchise business opportunities, businesses and franchises for sale on this web site are not to be considered as an "offering", "franchise offering", suggestion or recommendation by Franchise Leader™. This advertisement depends entirely on the truthfulness of the information provided by our advertisers which includes, but is not limited to, franchisers, franchise brokers, franchise consultants and business brokers. Franchise Leader™ recommends that you consult a lawyer, financial consultant, accountant or professional advisor before buying a franchise or business opportunity or any type of business. By using this form or any part of our website, you have agreed to all terms and conditions of Franchise Leader™. Please review our