It's Time to Be Your Own Boss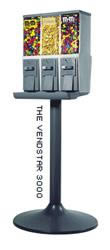 Create a successful cash business that lets you choose your own hours!
Start off as small as you desire, and expand YOUR business at your own pace. Work full- or part-time. Your income starts as soon as your machines are located, and your profit is only limited by the number of machines you want to service. Over the years, the vending business has shown itself to be recession-proof. According to Packaged Facts and Census Bureau Data reports, U.S. retail sales of candy will grow 4% annually over the upcoming five-year period. At this rate, the market will approach $17.8 billion by 2009. In addition, convenience and portion-control are two driving trends in the food industry, making single-serve and smaller portions one of the industries fastest growing segments.
Your Vendstar machines are always on the job, displaying nationally advertised products 24 hours a day, 365 days a year. The Vendstar 3000 does all of the selling for you, allowing you to work
smarter
instead of
harder
.
INDUSTRY FACTS
INCOME OPPORTUNITIES
(a monthly publication) reports:
"Fifty machines that have already been well located are worth at least triple the cash value of the machines themselves."
"Any business broker can sell a vending route for two to three times the annual gross profit of the route."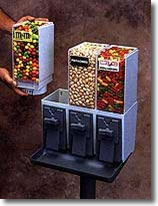 A Few More Sweet Facts:
No seasonal fluctuations, candy sells in almost equal amounts, in any season of the year.
Name brand candy, nuts & gum appeal to all ages, have a long shelf life and are highly advertised.
High profit margins, 400-500% return on product cost
The United States Department of Labor states that the average hourly income of a vender operator is $70.58!
Vending has proven to be as recession-proof as grocery sales!
Change is good! Join Vendstar and find out how good...
Vendstar offers you the freedom of being your own boss, with the financial security you've always wanted. Start small and expand as you earn. Better still, the potential profits are virtually unlimited.
Consider the Vendstar Benefits:
Vending machines are a 100% cash business
Vending machines do their own advertising
Earn up to an 80% profit margin
Work part-time with a full-time potential profits
Vending requires no overhead and no employees
A vending business requires no office, rent or utilities
Gain the tax advantages of self-employment
Don't just take our word for it! Read what some of our customers have to say about Vendstar…

"You just set up the machines and, they just make money. You don't have to constantly be there like a normal job. I have 46 machines right now and it usually takes me about two hours to service them. The machines do the work for me."
- Heath T., Tremonton, UT - 46 Machines


"Vendstar has helped me achieve my goals by assisting with the whole process of setting up my own business. And, when I say my own business, I mean I have over 100 machines and this is all I do!"
- Danyell A., Southfield, MI – Over 100 Machines


"I enjoy working with the Vendstar product and the whole concept of candy vending. The business has been lucrative and it has helped us do some of the things we've wanted to do because of the money. I'm semi-retired and this just adds to my self-employment and adds to the family time."
- Will I.,Kenton, DE – 55 Machines


"I chose Vendstar because it is instant cash flow and I saw the results a lot quicker. When I went to collect and I saw real money I was convinced! It's an excellent business for someone wanting to venture out and become an entrepreneur. To anyone thinking about this business I would say "Go for it - You won't be disappointed!"
- Mose H., Memphis, TN – Over 30 Machines

YOU CAN DO IT!
A Vendstar Business is suited for anyone!
Families: Raising a family today often requires both parents to work. Small children often spend many of their waking hours in daycare, while older children come home from school to an empty house. A Vendstar business can help you devote more time to your children and still be able pay the bills.
College Students: The price of a formal education can cause financial hardship. Many students try to offset the cost with part-time jobs. However, very few jobs provide the opportunity to earn a livable income and still allow time for study.
Retired: More and more people retire from the workforce without sufficient funds set aside to maintain their lifestyle, much less do the things they dreamed of doing in retirement. Just a few hours a month can make those dreams come true!
Disabled: Attempting to live on a disability or SSI check is virtually impossible. This income certainly makes all the little extras that most people enjoy simply out of reach. A Vendstar business may be your ticket to financial success.
This Vendstar Vending Route franchise opportunity and other franchise business opportunities, businesses and franchises for sale on this web site are not to be considered as an "offering", "franchise offering", suggestion or recommendation by Franchise Leader™. This advertisement depends entirely on the truthfulness of the information provided by our advertisers which includes, but is not limited to, franchisers, franchise brokers, franchise consultants and business brokers. Franchise Leader™ recommends that you consult a lawyer, financial consultant, accountant or professional advisor before buying a franchise or business opportunity or any type of business. By using this form or any part of our website, you have agreed to all terms and conditions of Franchise Leader™. Please review our