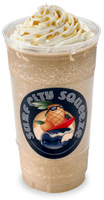 The business of Surf City Squeeze is to design, build and franchise blended fruit smoothie retail outlets. Founder Kevin Blackwell created the business concept in 1981 in Phoenix, Arizona. Since then, we've opened over 100 Surf City Squeeze locations nationwide. Our proprietary Smoothie Mix is the cornerstone to Surf City Squeeze Smoothies, which make up 90% of the menu. Quality products, excellence in service, and genuine customer satisfaction are the business foundation.
Our menu consists of outrageously delicious smoothies, chillers, & lemonades of all flavors. Whether it's Strawberry Banana, Pineapple, Watermelon, or any one of our dozens of varieties, we offer a line up of blended treats that make for a swell lunch, dinner, or even breakfast.
The management team at Surf City Squeeze has developed the smoothie business operation with precision. The concept is a successful business location, efficient and appealing design, and a product menu that encompasses health and fitness awareness with new nutritional technologies. The management has created a strong team which can expand the concept with efficiency into the future targeted areas.
Surf City Squeeze expects to continue to expand the number of operations during the next five years to 400 locations. This expansion is based on the continuation of franchising, co-branding opportunities, expansion by current franchisees and through acquisitions.
Surf City Squeeze intends to expand the menu with the addition of food items and also has plans to expand the successful line of Functional powders and Extras available. This expanded Functional and Extras menu will allow the Surf City Squeeze menu to be recognized as the largest selection of herbal additives and supplements available in a blended drink.
This Surf City Squeeze franchise opportunity and other franchise business opportunities, businesses and franchises for sale on this web site are not to be considered as an "offering", "franchise offering", suggestion or recommendation by Franchise Leader™. This advertisement depends entirely on the truthfulness of the information provided by our advertisers which includes, but is not limited to, franchisers, franchise brokers, franchise consultants and business brokers. Franchise Leader™ recommends that you consult a lawyer, financial consultant, accountant or professional advisor before buying a franchise or business opportunity or any type of business. By using this form or any part of our website, you have agreed to all terms and conditions of Franchise Leader™. Please review our