Snip-its: A cut above other franchise opportunities
The Snip-its Story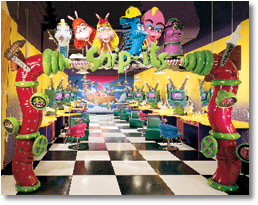 The last decade has seen the development of many successful businesses specially designed to wow kids. In 1993, when Joanna Meiseles sought a hair salon that catered to her young children, instead of a salon, she discovered a business opportunity. After two years of extensive research and planning, Joanna opened the first Snip-its salon in Framingham, Massachusetts to rave reviews.
Now with over 60 franchises up and running, Snip-its is revolutionizing the haircare industry with its a branded entertainment concept focused on the specific haircare needs of children. The children's segment of the haircare industry, a $45 billion market, is currently estimated at $5 billion, with over 40 million children in the United States receiving a haircut an average of eight times per year.
The Snip-its Adventure
Snip-its is the only fully developed entertainment concept in the children's haircare market today, and one of the most innovative concepts in all of retail. From start to finish, a haircut at Snip-its is truly an adventure!
The Snip-its custom interiors feature our own cast of cartoon characters, interactive computer play stations, the Magic Box, and a complete line of haircare products formulated just for kids. Paired with floor to ceiling cartoon murals in splashy vibrant colors, Snip-its offer adventure and excitement in every visit.
The Snip-its Salon Investment
Estimated initial cash investment required, assuming the franchisee leases the standard business premises recommended for a Snip-its salon. The standard business premises recommended for a Snip-its Salon is between 1,400 and 1,600 square feet with six cutting stations and one wash station. Larger or smaller salons may be negotiated.
The Snip-its Advantage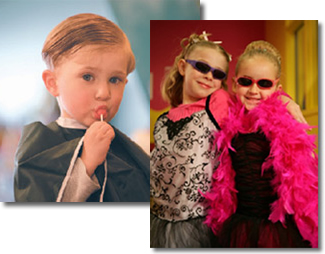 The Snip-its franchise program offers you the benefit of a brand with high consumer awareness, a service with strong demand and instantaneous customer loyalty, access to our proprietary point of sale and effective marketing programs, plus a system of operations that is second to none.
The Snip-its business model is proven successful in its stores throughout the country. The corporate franchise team has fine-tuned unit-level operations in order to ensure that franchisees have the opportunity to invest in a highly successful business that will help them to achieve their personal and professional goals.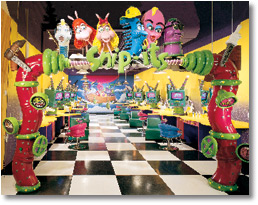 Get your cut of the $45 Billion Hair Care Industry
Opportunity. Success. Freedom. Fun.
Snip-its has been revolutionizing the hair care industry since its first store opened in 1995 and is now the fastest growing franchise in the children's hair care market. Each week, somewhere in the United States, a new group of long-haired children and happy parents welcome new Snip-its franchisees into their neighborhoods with open arms. Snip-its has taken what was once a dull, tedious and often stressful chore and transformed it a fun-filled family adventure. Running a business has never been so exciting!
What Grows Faster, Kids' Hair or a Snip-its Franchise?
The hair care industry is estimated at $45 billion, with the children's sector of the market estimated at $5 billion and growing… literally. Business owners looking for a recession-resistant business with strong, consistent reoccurring revenue streams should look no further. By the way…a Snip-its business also operates during normal business hours, carries very little inventory, no receivables, and absolutely no spoilage!
Work With Some Real Characters
Snip-its is the only concept that can boast proprietary cartoon characters, custom computer play stations, a Magic Box, and branded hair care products.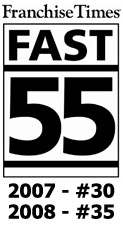 All of these unique elements, along with custom training programs for franchisees and their staffs, combine for a perfect hair care solution for kids, parents…and franchisees, too. The only child focused salon to make the list.
Why Snip-its?
The only child-focused hair salon franchise on Entrepreneur magazine's Top 500 Franchises for 2008
Franchise Times Fast 55, fastest-growing franchises two years in a row
The Snip-its Franchise: Ownership Has its Rewards
If your goal is to build a successful business and to be your own boss, you may be closer than you realize. You don't need to be a licensed cosmetologist or a retail expert to become a Snip-its franchisee. If you love kids and want to own your own business, the Snip-its franchise program can help you fulfill your dream.
You Won't Find a More Promising Business Model if You Comb High and Low
Whether you're interested in a single Snip-its salon or a multi-unit territory, we have a program for you. The Snip-its franchise program offers you the benefit of a brand with high consumer awareness, a service with strong demand and instantaneous customer loyalty, access to effective marketing programs, plus a system of operations that is second to none.
We Developed a No-Tears Formula For Franchise Support
The Snip-its Franchisee Support System has been designed with one goal in mind—to make it as easy as possible for franchisees to open and operate a successful and rewarding business. The Snip-its team is excited to help its franchisees in all aspects of their business—from real estate to store development to marketing and ongoing operations. Royalty fees are 5% the first year and 6% thereafter. Marketing fund contributions are 1.5% the first year and 2% thereafter.
Snip-its Success Stories
Snip-its franchisees have achieved success with our proven system. More than 60 locations are already open with new salons opening monthly. Read what some of our delighted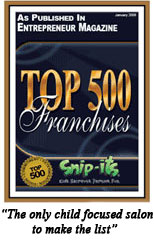 franchisees have to say about their experience:
"Snip-its brand may be new to the Twin Cities, but we are quickly becoming a household name. We love having a child-focused business and are excited to grow with Snip-its."
- Haseen and Tasmia Alam, Minnesota
"Snip-its has a great support system, with experienced and knowledgeable field reps along with the tools we need to build our business."
-
Jennifer Hohman, Texas
"We own three salons and are opening more. Snip-its has given us the ability to control our careers."
-
Rebecca and Erik Zola, New England
Don't Brush Aside This Opportunity
If you are a passionate, creative, and qualified entrepreneur, and you like what you've read so far, we invite you to take the next step by completing the email form below for additional information.
The Snip-its Franchise Support
Snip-its' business systems are built on three legs of success: first, to "deliver magic" to all of our customers; second, to offer strong profit potential for franchisees; and third, to maintain a financially strong parent company. We believe that teamwork is the key to success – all in support of these common objectives.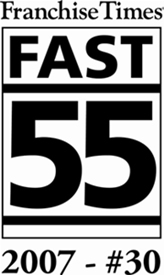 The relationship between franchisor and franchisee is a strategic association with mutual interdependency. Snip-its is committed to providing its franchisees with the highest level of support. We offer franchisees comprehensive assistance that ranges from guidance through the initial application process to the salon's grand opening, and beyond. Field and corporate support are included as part of the franchise fees. We provide the information and assistance needed to help grow business from day one, and we provide the tools necessary to keep business growing day in and day out.
Snip-its is one of the fastest growing chains of children's hair salons in the country and is quickly emerging as the market leader with invaluable brand equity and share of mind. When our franchisees are successful, Snip-its is successful, and the Snip-its brand continues to gain value. We're counting on your success!
We appreciate your interest in a Snip-its franchise and look forward to helping you achieve your personal and professional goals.
This Snip-its Hair Cuts For Kids franchise opportunity and other franchise business opportunities, businesses and franchises for sale on this web site are not to be considered as an "offering", "franchise offering", suggestion or recommendation by Franchise Leader™. This advertisement depends entirely on the truthfulness of the information provided by our advertisers which includes, but is not limited to, franchisers, franchise brokers, franchise consultants and business brokers. Franchise Leader™ recommends that you consult a lawyer, financial consultant, accountant or professional advisor before buying a franchise or business opportunity or any type of business. By using this form or any part of our website, you have agreed to all terms and conditions of Franchise Leader™. Please review our