Purchasing Power
Our franchisees enjoy real savings on:
Cleaning equipment
Supplies
Vehicles
Uniforms
Marketing Programs
Training & Development
Our franchisees are provided with:
New Franchise Owners School
Customer Service Representative Training
Cleaning Technician Training
Comprehensive Operations Manuals & Training Videos
In-Field Franchise Owner Support
Access to Corporate Management
National Convention
Network of Franchisees to Share "Best Practices"
Information Technology Support
Marketing and Advertising Benefits
Our franchisees also enjoy the benefits of:
The Sears Brand Name
Ability to accept the Sears credit card for payment
Advertising Creative provided including newspaper, direct mail and radio/TV
Listings in the leading Internet Yellow Pages
Exclusive Internet website to bring in even more customers
Lower Newspaper Advertising Rates
Assistance with Yellow Pages advertising
Customer retention programs
Phone Leads Direct to Franchisee
Commitment
Sears Carpet & Air Duct Cleaning is deeply committed to our franchisees. Our support begins from the first day of our association, and it includes virtually every aspect of sales development, marketing strategy, record keeping, computerized systems and operational management. Our goal is simple: to assure that every member of your team thoroughly understands how to acquire, service and retain customers for Sears Carpet & Air Duct Cleaning.
The Sears Brand
Over time, a brand acquires powers far beyond a name.
The Sears brand has come to represent quality, integrity, convenience and - most importantly - consumer confidence.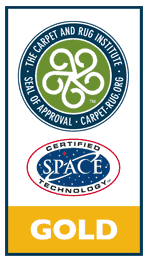 As one of the most recognized brand names in the world, Sears has proven to be a strong and stable organization which has launched other internationally respected brands, including Kenmore, DieHard and Craftsman.
When you decide to put the name Sears on your van, you're still the one in the driver's seat. So, what's in it for you?
Ultra Care® Two-Step Carpet Cleaning Process
Our two-step process is the cleaning system recommended by America's largest carpet manufacturer
Our cleaning process was the first to earn the Gold Seal of Approval from the Carpet & Rug Institute for superior carpet cleaning.
It means quality, well-maintained vehicles and UltraTech™ equipment designed and manufactured to our own unique specifications.
It means "green" cleaning solutions that are environmentally-friendly and safe for kids and pets
It means providing our customers with products, service and advice that exceed their expectations.
Every Sears Carpet & Air Duct Cleaning job is complete with the Sears world famous customer promise of Satisfaction Guaranteed.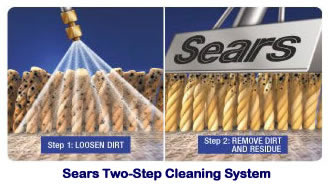 Other Consumer Services Available
Our franchisees can offer much more than residential carpet, upholstery and air duct cleaning. They may offer tile & grout cleaning, water extraction, window cleaning, leather furniture care and commercial carpet cleaning to increase their sales.
Not Just Another Business
Going into business under the Sears banner means joining a nationwide team committed to upholding a time-honored tradition of quality, value and customer service.
The Ultimate Customer Focus
Sears has shown quite clearly for well over a century that an unflinching focus on customer satisfaction is the one true key to make a business a lasting success. If "Shop at Sears and Save" was the premise, "Shop at Sears and Be Sure" was the promise.
Become part of the Sears Carpet & Air Duct Cleaning franchise family and start your own tradition!
Here's what some of our existing Franchisees say about Sears Carpet & Air Duct Cleaning:
"I've been in the carpet cleaning business for many years. The reason I'm with Sears Carpet & Air Duct Cleaning is the power of the Sears name. Sears and customer service go together. Sears brand has impact! I have never seen anything like the customer base of Sears. It was a great opportunity and I took advantage of it. Everyone knows Sears!"
Steve Gucciardo, Franchisee, New York boroughs
"As a newcomer to the carpet & air duct cleaning business, I was looking for a franchise with a proven track record to help me grow. I believe Sears has the strongest name and best support available. I would highly recommend Sears Carpet & Air Duct Cleaning to anyone looking to own a franchise business!"
Charles Jenkins, Franchisee, Columbia, SC
This Sears Carpet & Air Duct Cleaning franchise opportunity and other franchise business opportunities, businesses and franchises for sale on this web site are not to be considered as an "offering", "franchise offering", suggestion or recommendation by Franchise Leader™. This advertisement depends entirely on the truthfulness of the information provided by our advertisers which includes, but is not limited to, franchisers, franchise brokers, franchise consultants and business brokers. Franchise Leader™ recommends that you consult a lawyer, financial consultant, accountant or professional advisor before buying a franchise or business opportunity or any type of business. By using this form or any part of our website, you have agreed to all terms and conditions of Franchise Leader™. Please review our