Frequently Asked Questions
How much does a Samurai Sam's Franchise cost? Can I own and operate more than one Samurai Sam's?
The franchise fee for your first and second Samurai Sam's franchise traditional locations is $30,000 per location. The franchise fee for the third location, and any after that, is $17,500. Non-traditional locations (limited menu) offer a lower franchise fee. We encourage our franchisees to become multiple-unit owners.
What type of costs will I be expected to pay for, after the franchisee fee?
The franchisee is responsible for all of the build-out costs including, but not limited to: architectural renovation of the location, equipment and smallwares, professional fees and travel to training location/facility, inventory, etc. The costs associated with each location will vary.
What is the franchise royalty fee? Advertising fee?
The franchise royalty fee is 6% of sales per month or $400/week, whichever is greater. The advertising fee is .5 % of sales per month (non-Phoenix metro area stores).
VISION WITHOUT ACTION IS A DAYDREAM. ACTION WITHOUT VISION IS A NIGHTMARE. THAT'S WHY WE'RE HERE FOR SUPPORT.
Starting with just one restaurant in the late 1990's, Samurai Sam's has grown to over 90 locations nation-wide and has been recognized twice by Entrepreneur Magazine at the #1 Asian Fast Food concept. At Kahala Corp., the franchisor of Samurai Sam's Teriyaki Grill, our belief is that the future of our franchise network is dependent upon the quality of our franchisees. Therefore, we carefully screen prospective franchisees and make sure they meet all the qualifications necessary for running a successful Samurai Sam's Teriyaki Grill restaurant. By maintaining these guidelines we are not only able to provide new franchisees with one-on-one guidance, but it also allows us to sustain a superior level of quality control.
With extensive experience in the food service and franchise industries, you can be assured that the management team at Kahala Corp. will maintain only the highest standards of leadership and continued success of the Samurai Sam's franchise network.
THE TRUE ESSENCE OF A MAN IS NOT WHAT HE HAS, BUT WHAT HE DOES… AND WHAT HE EATS.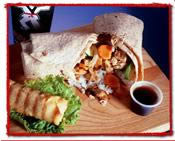 Samurai Sam's Teriyaki Grill skewers the competition with its simplicity: healthy Japanese-style cuisine prepared fresh and fast!
At Samurai Sam's Teriyaki Grill, we are committed to excellence by always serving delicious, nutritious high-quality products using only the freshest ingredients and providing quick, friendly service at an affordable price. It is this philosophy that keeps our customer coming back for more and more!
Our lean menu sizzles with tasty Japanese favorites, like our best-selling Teriyaki Bowls served with grilled chicken or steak, steamed white or brown rice, grilled vegetables and our mouth-watering Teriyaki Sauce. Or our wildly popular Yaki Soba Bowls with crisp vegetables, wok-stirred noodles and our mild or spicy Teriyaki Sauce. These tasty items, along with our Grilled Egg Rolls, Teriyaki Wraps and Garden Fresh Salads are just a few of the reasons people are talking about Samurai Sam's Teriyaki Grill.
Our stores are just as exciting as our menu! Bold colors and ornate graphic images decorate the walls and pay homage to the richness of the Japanese culture. Eye-catching backlit menu boards help guests choose quickly, while merchandising elements throughout the restaurant feature memorable words of wisdom from "Samurai Sam" himself.
At Samurai Sam's, the support you receive is on-going. Here is just some of the assistance you will receive:
Our priority is your SUCCESS! You'll receive on-going support and guidance from our highly skilled team of experts in the restaurant and franchise industry. From the day you sign your Franchise Agreement, our team is dedicated to helping you achieve your goals!
Training creates excellence! Prior to your Grand Opening, you will spend a week at our Corporate Headquarters learning all aspects and tools necessary to profitably operate your restaurant in addition to your in-store hands-on training time.
Location, location, location! We provide you with the option of working with our experienced team of real estate specialists, who have assisted many of our current franchise owners, simplifying the site selection process. You will also benefit from our vast knowledge and assistance in the design, build-out, and construction phases of your restaurant!
"Walk the Healthy Path" - Owning a Samurai Sam's Teriyaki Grill restaurant sets you apart from the other "fast food" restaurants by providing customers with a great tasting, healthy alternative. You can be proud to serve all the items on the menu, knowing your customers will receive only the best ingredients, based on years of research and product development.
Be in business for yourself, not by yourself! For a relatively low initial investment, you can be on your way to being your own boss and obtaining financial independence with a support network designed to make you succeed. What more could you ask for?