WHY FRANCHISE?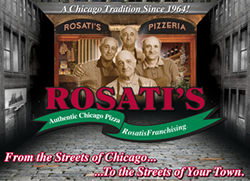 The pizza business is booming. It seems that there is a new pizza store opening in every neighborhood of every state, all across America. In fact the growth is so vast that pizza has become a stand alone 34-billion dollar industry all of its own. Of course in order for you to cash in on your piece of the pie (no pun intended), you need to start by choosing the right brand to run with. Rosati's Pizza is the perfect brand. Rosati's Pizza has provided delicious pizza, pasta, sandwiches and more for over 40 years. Our family recipes originated in Italy and have become a tradition of quality for five generations. Being a Rosati's owner is not like being part of a franchise, it's like being part of the family. Sure, we give you the same benefits and support as a large chain, but we provide it in a unique and personal manner. You're not just a number to us; we are committed to your success. Prior to opening, our team will assist you in all facets of training-kitchen, counter, pizza-making, drivers and management. When the time comes for your exciting grand opening, there is not doubt you'll be prepared. We will also help in working out many of the pre-opening bugs that may develop.
SIMPLE
Limited, focused inventory; what could be easier? Everything about Rosati's, from the menu and marketing to franchise management, has always been about keeping it simple, straightforward, and without games or gimmicks. Our bottom line is that we make pizza and casual Italian fare, avoiding anything that complicates the process or your bottom line.
HONEST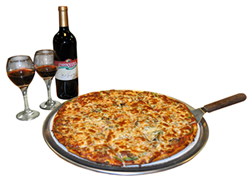 We've got a product that people crave... and it's damn good! We promise great-tasting food made from our own family's tried and true recipes and we deliver on that promise.
COMMITTED
When you start a business in your own kitchen and nurture it into a national franchise, that's execution with drive. When you work your way up from delivery driver to store owner, that's passion. And when you drive 6 hours out of your way to get a pizza, that's a Rosati's customer! Since day one, we've been committed to making the world's greatest pizza and that's not about to change. As long as we're enthusiastic about Rosati's, our customers will be too.
How long does it take to open a Rosati's Pizza restaurant?
Each location is different, depending on a variety of factors. Some of these factors include site selection, build-out requirements and training. However, it typically takes about 6 to 8 months from signing the Franchise Agreement to opening day of a Rosati's Pizza franchise.
What type of training can a franchisee expect?
All new franchisees participate in a 4-week training program. This consists of 4 weeks of on-the-job training at a Rosati's Training Store within your geographical location that will include real-time management experience. In addition, we will train your assistant manager for three weeks at the same training center. Once initial training has been completed, franchisees receive regular updates to their training, including on-site reviews.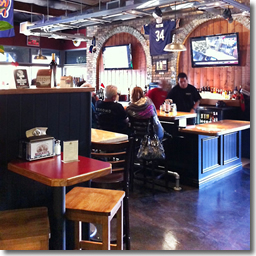 How is food quality and consistency maintained?
Our Rosati's Brand products are created from family recipes that have been handed down from generation to generation for more than 40 years. They have been blended exclusively for us by the highest quality manufacturers in the industry. Products are delivered to our stores by national distributors on a weekly basis.
Our vegetables are purchased from local sources and are delivered to our stores fresh daily. In this manner, the high-quality Rosati's Pizza you enjoy in Chicago, Illinois is the same as the tasty pizza we make for you in Phoenix, Arizona or any other Rosati's Pizza location.
This Rosati's Pizza Franchising franchise opportunity and other franchise business opportunities, businesses and franchises for sale on this web site are not to be considered as an "offering", "franchise offering", suggestion or recommendation by Franchise Leader™. This advertisement depends entirely on the truthfulness of the information provided by our advertisers which includes, but is not limited to, franchisers, franchise brokers, franchise consultants and business brokers. Franchise Leader™ recommends that you consult a lawyer, financial consultant, accountant or professional advisor before buying a franchise or business opportunity or any type of business. By using this form or any part of our website, you have agreed to all terms and conditions of Franchise Leader™. Please review our