About Us
OUR FRANCHISES ARE LIKE OUR ICE CREAM — THE BEST
Ritter's Frozen Custard is an award-winning premium ice cream chain. We offer a proprietary, super-premium ice cream menu, served in an engaging, clean, friendly atmosphere. We offer superior training, a proven franchise model, and the tools and support you need to succeed.

NOT ALL ICE CREAM IS CREATED EQUAL.
One bite and you'll agree—Ritter's frozen custard is simply the creamiest, best-tasting ice cream ever to cross your palate. Ritter's is made fresh all day, every day, using high-quality dairy ingredients. We add just a smidgen of pasteurized egg yolk and don't fluff up our ice cream with a lot of air (like many other brands) to produce an amazing combination of flavor and texture. In fact, the name "frozen custard" is attributed to a Coney Island ice cream vendor who came up with the new name to better describe the rich, creamy experience. And to the surprise of many taste buds, Ritter's is only 10% butterfat, which is actually less than most competitors.
Training and Support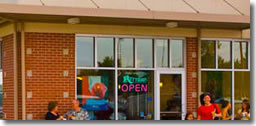 All franchisees must successfully complete basic training at a certified training store as well as a 15-day training program. The program will cover day-to-day operations, cost controls, staffing, labor controls and management skills. All the training will take place in an operating shoppe. To assist in your opening period, we will send one of our Regional Director of Operations to your shoppe for 7-10 days. Ritter's also hosts an annual franchisee conference, which brings franchise owners together to discuss opportunities to improve skills and business profitability. It also allows TRUFOODS to communicate with all franchisees about new product marketing issues, and operational improvements.
In addition to your initial training period, Ritter's will provide a support team that will coach you in various facets of construction, equipment, marketing, advertising, staffing, and training. Ritter's Regional Director of Operations will also make regular visits to counsel you on business issues such as operating procedures, inventory, cost control, profitability, and marketing. To ensure consistency, you will have the right to use our Operations Manuals and will be provided with marketing and operational updates.
Ideal Candidate
We're looking for franchisees who are outgoing, have sales, and/or management experience, and are results oriented. A person who can build relationships with guests, team members and the community. A true team leader who has the motivation to excel! You must have a minimum of $400k in liquid capital, and be ready to make a total investment of approximately $300K to $800K.
Testimonials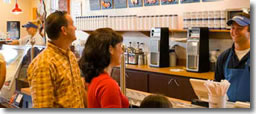 "One year when we were in Indiana in October, some friends had told us about a place that made unbelievable ice cream. It was October and cold, but the place had lines of people standing outside to get their ice cream. It was Ritter's Frozen Custard. We liked the uniqueness of the operation, the cleanliness, customer service. Then we tried the frozen custard and quickly understood why there were lines. John thought this might be the restaurant opportunity he'd always wanted. So we contacted Ritter's and now we have our own ice cream business. One of the most rewarding parts of owning our own Ritter's is working with our crew. They are proud of what they serve to our customers, they know that people love our products. Our first year was a bit of a learning curve, but it's a fun and friendly place to work. We also appreciate the corporate support. When you call, you don't talk to a machine. You can talk to real people who know your business and who are there to help you." - John & Renee Dame
"I was a 'corporate America' guy, with the same company for 27 years. I was in charge of a customer service data center and also worked in information technology. After all those years, I decided that I didn't want to live in the corporate world and began looking for franchise information on the Internet. I even sent for information from one of the largest ice cream franchises. When my brother found out I was looking at an ice cream franchise, he told me about Ritter's. When I visited the shoppe in Beavercreek, I was really excited about what I saw. Great products, neat, clean environment."
"The Ritter's system fits who I am. It's about customer focus, the best products, the cleanest environment. I feel like the training and practical experience provided by Ritter's has made the difference in business management, labor management and much more. Ritter's has been very supportive of my business." - Don Heyne
"Over the years we started talking about opening our own business. We started looking at different franchises, including a bakery franchise. When my father-in-law heard that we were looking at franchise opportunities, he called us and said: 'You need to come down and have a look at Ritter's Frozen Custard!' We were very impressed by the surroundings, the friendly people and especially the product. It was just what we were looking for—something very good and very different."
"In our first year, there was a learning curve, but we became more and more efficient and felt we were ready to grow. When it came time to open our second shoppe, we realized how important it was to add experienced managers so we could focus on growing our businesses. It has been a very good transition. Ritter's is a fun place to work and those long lines during our peak months really make the time go by quickly. The hours are pretty good compared to other foodservice concepts. Also, the flexibility of owning your own business makes it great for family life. We are able to spend more time with our kids and enjoy our lives more." - Brent and Susan Goings
*This advertisement is not an offering. An offering can only be made by prospectus filed first with the Department of Law of the State of New York. Such filing does not constitute approval by the Department of Law.
This Ritter's Frozen Custard franchise opportunity and other franchise business opportunities, businesses and franchises for sale on this web site are not to be considered as an "offering", "franchise offering", suggestion or recommendation by Franchise Leader™. This advertisement depends entirely on the truthfulness of the information provided by our advertisers which includes, but is not limited to, franchisers, franchise brokers, franchise consultants and business brokers. Franchise Leader™ recommends that you consult a lawyer, financial consultant, accountant or professional advisor before buying a franchise or business opportunity or any type of business. By using this form or any part of our website, you have agreed to all terms and conditions of Franchise Leader™. Please review our