Retro Fitness Franchise Investor Model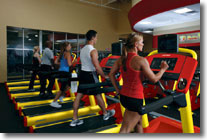 RetroFitness the low cost leader of high quality fitness franchises is currently seeking single and multi-unit operators looking to expand their franchise portfolios. RetroFitness is a low-cost, high value fitness concept that gives members an unbelievable gym experience for just $19.99 a month. The facility is designed to maximize the square footage so that owners are not paying for space, heat and A/C that goes unused most of the time. We have created a streamline set of operations, so you can be an investor instead of an operator in your club. We've set up Retro University to train the in-club manager so they can oversee the day-to-day operations of the business.
RetroFitness has solid unit economics; our top clubs have average gross sales of $1.9 million per unit, and average EBITDA of $749,000; the average club has gross sales of $1.2 million and average EBITDA of $306,000. We've added multiple revenue centers within the facility which helps increase the bottom line. Our RetroFitness clubs have 60-75 pieces of cardio equipment (with personal LCD TV screens), a Retro movie theatre, where members can watch their favorite movies, three different types of circuit training equipment, free weights, locker rooms, personal training, chiropractic services and more. The minimum net worth for individuals seeking a single-unit is $1.5 to $2 million and at least $350,000 in liquid assets.
Turn-Key Profit Centers - Products and Services
Full Service Fitness Center including: 60+ pieces of various cardio equipment; various circuit training/strength training equipment and free weights
Personal training services; proprietary personal training system designed for maximizing net profit
Group Fitness – Retro On-Demand Classes
Tanning
Chiropractic Services
Full line of Supplements
Retro Cardio Movie Theatre
Coca Cola® brand products and other cooler drinks
Fitness and nutritional program by dotFIT®
RetroBlends Juice Bar
Full line of Under Armour® exercise apparel and accessories
Franchisee Support
Retro Fitness brand recognition; proprietary marketing/advertising strategy plan including full service internet/intranet website for all owners
Owner hotline via our toll free number
Full staff training on-site and at Retro-University, including top performer recruiting tactics, compensation structures, and elite Retro performance systems and procedures
Location Services; elaborate demographic profiles, real estate lease/purchase negotiating nationwide
Turn-Key Interior/exterior design/build-out services by industry leading architects/contractors
Camera software/hardware for off-site monitoring of your facility in real-time
Direct Marketing solutions: including "call tracker" for measuring return on investment
Membership Sales (Pre-Sales) services/consulting
On-going weekly owner/manager support and training
*The minimum net worth for individuals seeking a single-unit is $1.5 to $2 million and at least $350,000 in liquid assets. If you meet or exceed these financial requirements, please complete the RetroFitness Request Form.
This Retro Fitness franchise opportunity and other franchise business opportunities, businesses and franchises for sale on this web site are not to be considered as an "offering", "franchise offering", suggestion or recommendation by Franchise Leader™. This advertisement depends entirely on the truthfulness of the information provided by our advertisers which includes, but is not limited to, franchisers, franchise brokers, franchise consultants and business brokers. Franchise Leader™ recommends that you consult a lawyer, financial consultant, accountant or professional advisor before buying a franchise or business opportunity or any type of business. By using this form or any part of our website, you have agreed to all terms and conditions of Franchise Leader™. Please review our