"We didn't reinvent the wheel . . . just the wheel business."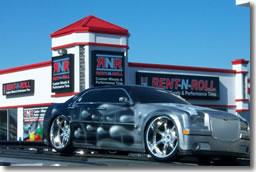 RNR opened the doors of their very first store in Tampa, FL October 2000. Combining over 40 years of Rent to own experience with Custom Wheels and Performance Tires has proven to be a winning combination! While there were many challenges during those early days, the final results have proven to be well worth the time and effort. Starting out with rent to own as the foundation helped launch the RNR model that you see today in over 20 states. Through foresight and market analysis RNR (home of the RENT-N-ROLL Program) has become a dominate force in the wheel and tire industry by offering retail, rent to own and other payment options.RNR has helped to bring the dream of owning custom wheels and tires to a much broader customer base than ever before as we continue to enhance our program and be innovative at every turn striving to always be the leader in our industry.
BE A PART OF THE MULTI-BILLION DOLLAR CUSTOM WHEEL AND PERFORMANCE TIRE INDUSTRY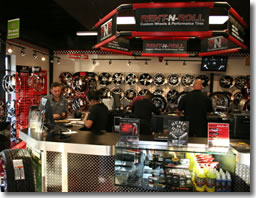 Have you ever sat back to look at all of the businesses that have grown over the past 20 years? A lot of them offer people opportunities to start their own little piece of the pie, but if you look closely, only the people that got into the game early are really reaping the benefits. The custom wheel and performance tire industry has taken its first steps into the Rent to own world and has seen the great potential, all its needs now is you.
AWARD WINNING MARKETING SUPPORT
With RNR you get full utilization of:
Our award winning jingle
Radio & T.V. spots
Direct mail and promotional fliers
Special event support
Through an easy on-line program you can easily tweak, order and ship your forms and promotional materials directly to your door, it doesn't get much easier than that.
HIGH AVERAGE STORE REVENUE
When exploring business opportunities, you will most certainly look at the potential revenue of the program. Well, RNR excels at being a business designed to make you the most money for your investment.Generating six figures in monthly revenue per store location is common. Just imagine if you open a RNR franchise in a market that can support 5 store locations.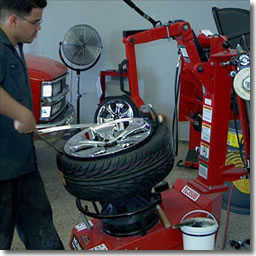 Our initial training program consists of approximately two weeks of on-line, classroom and on-site training at an RNR store owned by us or one of our affiliates in Tampa, Florida. RNR requests that you, your general manager, and at least two additional employees attend and complete our initial training program. In addition, one of our representatives will be at your site for up to 14 days (to be scheduled around your opening).
Your training program is intensive and includes:
Shop training
RTO training
Account management training
Sales training
Processing and systems training
We have dedicated service and sales professionals who work with your team to instill a culture of assistance. Our Franchise Support Team is always available to you and your organization.
This Rent N Roll franchise opportunity and other franchise business opportunities, businesses and franchises for sale on this web site are not to be considered as an "offering", "franchise offering", suggestion or recommendation by Franchise Leader™. This advertisement depends entirely on the truthfulness of the information provided by our advertisers which includes, but is not limited to, franchisers, franchise brokers, franchise consultants and business brokers. Franchise Leader™ recommends that you consult a lawyer, financial consultant, accountant or professional advisor before buying a franchise or business opportunity or any type of business. By using this form or any part of our website, you have agreed to all terms and conditions of Franchise Leader™. Please review our