Own a Healthy, Fun Food Franchise!
At Planet Smoothie, we help consumers eat on the run by creating more nutritious, better tasting, real-fruit smoothies and offering healthy products. Consumers want a healthier choice when it comes to convenient meals and we're giving them exactly that.
And with names like the Chocolate Elvis, Leapin' Lizard and Rasmanian Devil, healthy just became a lot more fun!
Why a Planet Smoothie Franchise?
Passion drives us, and makes us better at what we do. Passion for making great smoothies, for customer service, for a healthier lifestyle.
Our real-fruit smoothies taste better and fresh.
Made-to order breakfast and sandwich options provide healthy, multiple day-part options.
We have a flexible footprint in non-traditional sites such as airports, convenience stores, food courts, college campuses and office buildings.
No previous retail or restaurant experience needed.
Complete training program which will qualify you to run your store.
Join us and change how the planet eats!
What Petrus Brands Offers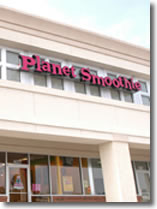 Our success doesn't stop with Plant Smoothie. We are part of Petrus Brands, which offers a diverse portfolio of exciting brands that are defining the fast-casual food industry, including Shane's Rib Shack
. We're a business about:
Great people
Breakthrough brands
Passion for what we do every day
Unique opportunities
Our brands, our product, and our franchisees are the best-in-class. We work day-in and day-out to maintain that advantage in the marketplace.
Leverage of a Portfolio Company
From recruiting to real estate, and from purchasing to marketing, Petrus Brands achieves a significant advantage in the marketplace by using the leverage among our multiple brands to strengthen each of these brands. This leverage provides unique opportunities for our franchisees every day, and is the most compelling reason for a true portfolio company.
Skilled and Seasoned Management
From the top of the organization, our company is known across America for people with vision, energy, professionalism, and talent.
Breakthrough Brands
Our brands are compelling in every way - tasty, healthy food in an enjoyable and inviting atmosphere. From our food to our people to our experience, Petrus Brands is raising the bar and reinventing the restaurant industry.
Real Estate
Location, location, location -- real estate is a huge part of our success. Our real estate expertise gains us access to the hottest locations in town and our tremendous buying power enables us to leverage multiple concepts in one location. The versatility of our business model allows us to adapt to any environment -- whether it's the big city, suburbs, strip malls, or stand-alone stores, we've got it covered.
Support
We provide the best-in-class support. Each store is assigned a business consultant who will assist in the strategic and operational questions that you will inevitably encounter after your Grand Opening. We're here to motivate, encourage, and share best practices.
This Planet Smoothie franchise opportunity and other franchise business opportunities, businesses and franchises for sale on this web site are not to be considered as an "offering", "franchise offering", suggestion or recommendation by Franchise Leader™. This advertisement depends entirely on the truthfulness of the information provided by our advertisers which includes, but is not limited to, franchisers, franchise brokers, franchise consultants and business brokers. Franchise Leader™ recommends that you consult a lawyer, financial consultant, accountant or professional advisor before buying a franchise or business opportunity or any type of business. By using this form or any part of our website, you have agreed to all terms and conditions of Franchise Leader™. Please review our