"You didn't push, plus you seemed genuinely concerned about our own lives..."
Karen DeFilippo, Mentor, OH
Wade Brannon and Bucky Cook have been partners in the franchise industry for over 20 years. Formerly the President and Senior Vice President of the Heavenly Ham system, which featured over 200 retail specialty food stores and ranked #1 in its category for 10+ years by Entrepreneur magazine, Wade and Bucky work personally with all new franchise owners. The Pigtails & Crewcuts team is focused first and foremost on providing an exciting concept, proven business model, and the support services to give the franchise owner the greatest possible opportunity for success.
"What more could you ask for?" Michael Kim, Richmond, VA
OK, I'm interested! What are the next steps? Please click on the "Request Information" link and complete the form. Email, mail or fax it to us. We will contact you personally to get you started on your evaluation of what is sure to become the leading provider of children's hair care service in the United States.





We will walk you through these steps to open your salon:

Identifying retail locations
Negotiating a lease
Salon layout and design
Inventory and start-up package
Owner and employee training
Developing a marketing plan and providing all collateral materials
"They taught me all I needed to know…."
Alyson Weaver, Windsor, CA
Previous salon experience is not required to operate a Pigtails & Crewcuts franchise. We are looking for is owners who are friendly, energetic, motivated, and love children. An owner from virtually any background, with these characteristics, and with the variety of support tools provided by Pigtails & Crewcuts corporate office can be successful as a Pigtails & Crewcuts franchise owner. Pigtails & Crewcuts poses an excellent franchise opportunity, whether you're a working mother returning to the workforce or an experienced entrepreneur looking for a multi-unit investment.
In short, we are looking for people to operate the Pigtails & Crewcuts Brand, in their hometown, as well or better than we could if we were there.
"We preferred the upscale look to any other concepts…."
Nancy Anderson, West Cobb, GA
Pigtails & Crewcuts does not fit the stereotypes commonly associated with the children's services industry. We accommodate children of all ages in a one-of-a-kind environment that is appealing to kids and parents alike – it is as fun as a playroom but as stylish and comfortable as a living room.
Pigtails & Crewcuts locations feature a playroom filled with toys including a wooden train, blocks, balls, and a PlayStation for older children. Situated above every haircutting station is a TV that plays family-friendly movies. The salons' custom-made barber chairs are shaped like an airplane, police car, and fire engine that come complete with a bell. Salons also offer two full-sized barber chairs for their more grown-up patrons.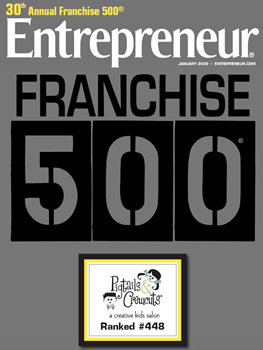 We also offer a variety of theme parties for boys and girl of all ages. We can customize a party such as Pretty Little Princess or an Ahoy Matey Pirate Party. The salon can tailor our party to meet any budget and desire.
Additionally, Pigtails & Crewcuts salons make that "nail-biting" first haircut a special experience. We have a keepsake card that includes a photograph and a lock of hair. We have created private label hair and body products for girls and boys with names like Goofy Grape, Out of this World Orange, Berries & Bows and Wacky Wash.
It only takes one visit to know why every new Pigtails & Crewcuts franchise instantly becomes the talk of the town. A mom that frequents the Buford, GA location said, "The problem isn't getting my son in the door; it is getting him out the door when it is time to leave."
This Pigtails & Crewcuts franchise opportunity and other franchise business opportunities, businesses and franchises for sale on this web site are not to be considered as an "offering", "franchise offering", suggestion or recommendation by Franchise Leader™. This advertisement depends entirely on the truthfulness of the information provided by our advertisers which includes, but is not limited to, franchisers, franchise brokers, franchise consultants and business brokers. Franchise Leader™ recommends that you consult a lawyer, financial consultant, accountant or professional advisor before buying a franchise or business opportunity or any type of business. By using this form or any part of our website, you have agreed to all terms and conditions of Franchise Leader™. Please review our