About Us
Office Evolution has perfected the virtual and executive office model to serve the newly booming entrepreneurial spirit. Instead of holding meetings in a loud coffee shop, using a personal phone for business calls and not having a professional street address to receive deliveries, small business owners and professionals now have a better alternative. As a franchisee for Office Evolution, you'll provide professional services such as:
Fully trained and polished receptionist to greet guests
Centralized phone answering, call screening and call transfer
Receipt of mail and deliveries
Fully equipped conference rooms
Internet Wi-Fi, phone systems, A/V equipment
It's our mission to support our franchisees as they support their small business clients. We can help you make it easy for entrepreneurs to focus on their business while you focus on the day to day office tasks. Your franchise location will provide fully appointed conference rooms and a variety of packages that make it affordable, convenient and efficient to use Office Evolution's Virtual or Executive Offices to conduct business.
Opportunity Overview
Your Business. Your Dream. Our Team.
Office Evolution's Strategic Growth
Office Evolution has grown strategically by selecting company-owned locations in great neighborhoods while fine-tuning our operations and developing a strong brand. We have the same approach with our franchise business. Our current plan is to double locations by the end of 2014 with 20 franchise locations.
Franchise Requirements
Franchisees must enjoy contributing to the success of their small business clients and fostering an environment that's positive, collaborative and supports that goal. The preferred candidate will be able to demonstrate a strong financial standing, sufficient liquidity and the resources necessary to develop a location/territory.
To be considered for an Office Evolution franchise, you must meet the following requirements:
Have at least $150,000 in cash or liquid assets and total net worth of $300,000
Provide $39,000 franchise fee per location
Training and Support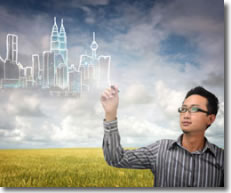 Office Evolution has established an expert support team that has developed the operational processes, experience and marketing that has built our concept to what it is today. Not only will you receive start-up support for the important aspects of the business including technology, phone systems, and real estate, you will continue to receive support after you open. We will hold regular conferences to provide updated tools and ideas, offer training updates for your staff and share new developments and experiences from other franchisees in other markets.
Support Team
Our Business Support team is led by Mark Hemmeter, President and Founder of Office Evolution. Prior to founding our company, Mark was involved in the development and operation of resorts, restaurants, gaming and hospitality properties in and outside of the United States. He has an extensive business background and has honed his leadership skills with the expansion of Office Evolution. Mark is supported by a strong team of professionals who are available to assist you and help you grow your business as a member of our Office Evolution family.
"You are not alone. Office Evolution is a growing business that has a sustainable model for virtually any city. Our processes are straight-foward to implement and the support team means you'll never have to be alone when faced with challenges or major decisions." -Mark Hemmeter
Ideal Candidate
Have an Executive Lifestyle, yet still have a Life!
Ideal Franchise Candidates Have the Following Characteristics:
Enjoy networking and hosting events to acquire new professionals and business owners
Helping small business clients thrive is important, motivating and fulfilling to you
Capable of empowering one great employee
You enjoy working in a system
This Office Evolution franchise opportunity and other franchise business opportunities, businesses and franchises for sale on this web site are not to be considered as an "offering", "franchise offering", suggestion or recommendation by Franchise Leader™. This advertisement depends entirely on the truthfulness of the information provided by our advertisers which includes, but is not limited to, franchisers, franchise brokers, franchise consultants and business brokers. Franchise Leader™ recommends that you consult a lawyer, financial consultant, accountant or professional advisor before buying a franchise or business opportunity or any type of business. By using this form or any part of our website, you have agreed to all terms and conditions of Franchise Leader™. Please review our