A Better Franchise Any Way You Slice It!
Simply put, the market for pizza and subs is huge. You have many choices when it comes to franchising, but read on and we'll quickly convince you that our dine-in, carry-out and delivery co-brand concept is a truly unique opportunity!
Advantage #1 – Leverage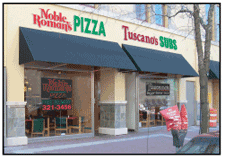 First, we are offering you the opportunity to have not just one brand for your money, but two - and all under one roof in less than 2000 square feet. The $33 billion pizza business probably averages about 30% of its business at lunch and 70% at dinner – the $65 billion sandwich business is almost exactly opposite. This means that with us, your investment is working harder to maximize the sales potential of your facility all day! Same fixed overhead, more potential sales opportunity.
Advantage #2 – Taste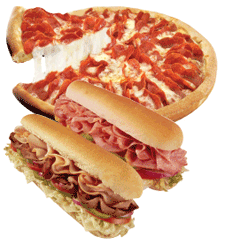 Second, once you taste our food, you'll experience for yourself what our dedication to product excellence means for your customers' taste buds – its quality everyone can taste, and it is the foundation of our company! And at a great on-going cost structure, too. Every concept probably tells you they have good food, but ours will live up to the test – and bring your customers back for more! Both brands feature full menus, including valuable add-ons and extensions like breadsticks & dip, wings, pastas, salad bowls and more.
Advantage #3 – Simplicity
Third, we have designed our systems around total simplicity of operations – even a brand new employee right off the street can be a productive member of your team in only a few minutes. We designed our concept from the ground up so that virtually anyone, even especially those without previous restaurant background, can be an operator. And since we have been in the business since 1972, we can teach you exactly how to make it work!
Advantage #4 - Speed
Fourth, we're just plain old fast! As a consumer, how long are you waiting to get delivery service on a Friday night? Our society wants it quick. Imagine the competition (and your sales!) when you are able to get made-to-order pizzas and subs out the door in under 10 minutes! Unique product, unique systems, all engineered for speed!
Advantage #5 – Affordability
Fifth, you are getting all of these advantages for an investment that is often less than that for something a lot more limited and ordinary. Obviously, the greater the sales potential, the more efficient the operation, and the less capital it takes to get it running, the more opportunity you have for maximizing returns!
Who We Are & What We Do
We are Noble Roman's, Inc. and we were founded in 1972 on the competitive testing grounds of Indiana University. Now we are nationwide with locations in 44 states, even supplying our GI's on several US military bases oversees. We are in the franchise services business - our mission statement is to create win-win financial results to the benefit of our franchisees. We are hard workers dedicated to your success – you can even find our company Chairman & CEO here at work 7 days a week!
We'll guide you every step of the way, from site location, to doing layout planning, to assisting you with contractors, to orchestrating everything you'll need, from ovens down to mop buckets. We'll put together marketing plans and we'll train you thoroughly and efficiently on all aspects of operations. And most important, we'll put our 34 years of experience behind our on-going support of your business – you'll be in on all our secrets, our proprietary systems and products. In short, you can count on us!
This Noble Roman's Take-n-Bake Pizza franchise opportunity and other franchise business opportunities, businesses and franchises for sale on this web site are not to be considered as an "offering", "franchise offering", suggestion or recommendation by Franchise Leader™. This advertisement depends entirely on the truthfulness of the information provided by our advertisers which includes, but is not limited to, franchisers, franchise brokers, franchise consultants and business brokers. Franchise Leader™ recommends that you consult a lawyer, financial consultant, accountant or professional advisor before buying a franchise or business opportunity or any type of business. By using this form or any part of our website, you have agreed to all terms and conditions of Franchise Leader™. Please review our