The Bill of Fare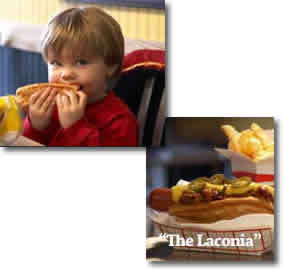 You will be serving some of the finest food and beverage products New England has to offer. In addition to our famous hot dogs and ice cream, our variety of side offerings includes French fries, coleslaw, potato salad, beans, nacho chips, and potato chips (including the all-natural Cape Cod brand, of course!).
Premium Hot Dogs
We're proud to feature mouth-watering hot dogs - both natural casing and skinless – from Boar's Head, one of America's finest purveyors of premium delicatessen products. Our broad selection includes vegetarian, kosher, pork & veal, and chicken dogs, kielbasa, knockwurst, sausage, bratwurst, as well as a selection of light, low-carb wraps for health-conscious hot dog lovers.
Training
New England Hot Dog franchisees will be trained in all of our operations and procedures. In addition to instruction in administrative, operational and sales/marketing areas, you will receive important hands-on experience including on-site training from an experienced trainer shortly before and immediately after your restaurant's opening.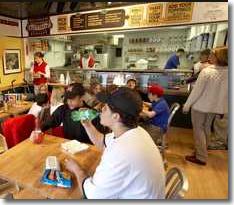 Additional areas of support include:
Operational Support – includes training and support in crucial areas of your business
Site Selection – guidelines an optimum location from drive-thru to food court options
Marketing Support – at both the local and regional level
We are committed to providing support services that will help you develop and run an outstanding New England Hot Dog restaurant of your own. Our support system has been carefully crafted to help you follow our established methods of doing business.
Franchisee Qualifications
Are you ready to become "top dog," as the owner/operator of a New England Hot Dog restaurant? We will be choosing a select number of franchisee candidates who may be awarded a New England Hot Dog franchise. In order to be considered, you must possess a strong sales and customer-service orientation. You should have well-developed people skills, coupled with a friendly, enthusiastic and outgoing nature. Maturity, stability, and high personal standards of honesty, integrity, and excellence are also required. Restaurant experience is not required.
Join the fast growing quick-service restaurant sector with a business that features not one but two all-time favorites: delicious, mouth-watering gourmet hot dogs and rich, creamy ice cream. Our insistence on top-quality and tremendous variety, served up in a delightful, New England-themed atmosphere, places New England Hot Dog in a category all its own. In fact, our brand of doing business gives New Englanders even more to be proud of!
Do you love hot dogs as much as we do? You can become part of our fast growing family.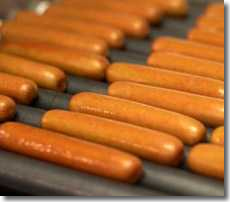 How do you measure success? By the foot long hot dog.
Americans love hot dogs. In fact, hot dogs have evolved into a huge business. As a nation, we are consuming about 70 hot dogs per person each year. In 2002, Americans ate more than 20 billion hot dogs. Any way you slice it, it's a large market!
First-Class Presentation
New England Hot Dog serves up a tremendous variety of exceptional quality, gourmet hot dogs, coupled with a mouth-watering selection of rich, premium ice cream. It's a dynamic duo of crowd-pleasing temptations!
New England Hot Dog capitalizes on it's distinctive regional character with a charming New England theme that forms the personality of our restaurants. Designed to accommodate approximately 24 seats, New England Hot Dog's intimate atmosphere and air of stability place this quick-service restaurant in a category all its own!
And now, we're serving up an appetizing opportunity for you to become part of it with a New England Hot Dog franchise of your own! Look what we can offer you!
Solid Business System
As a New England Hot Dog franchisee, our Business System will provide you with a solid foundation on which you can build your business. It is the "blueprint" that will guide you in the planning and execution of your own New England Hot Dog restaurant.
This New England Hot Dog Company franchise opportunity and other franchise business opportunities, businesses and franchises for sale on this web site are not to be considered as an "offering", "franchise offering", suggestion or recommendation by Franchise Leader™. This advertisement depends entirely on the truthfulness of the information provided by our advertisers which includes, but is not limited to, franchisers, franchise brokers, franchise consultants and business brokers. Franchise Leader™ recommends that you consult a lawyer, financial consultant, accountant or professional advisor before buying a franchise or business opportunity or any type of business. By using this form or any part of our website, you have agreed to all terms and conditions of Franchise Leader™. Please review our