Nerd Force® is a fast growing mobile computer and technology support franchise, which services individuals as well as small and medium sized businesses, both on site and remotely with branded IT managed services.
Originally started in New York, Nerd Force® is spreading across the United States and now has a presence in Europe and the ambition to expand the brand worldwide. Its parent, Nexus Management plc, is listed on the London stock exchange.
The Company is now looking for highly driven, motivated and passionate individuals to build a great future with it. Nerd Force® is a young, dynamic franchise, set to dominate the multi-billion dollar computer and technology services industry.
WHY JOIN US?
We have a great brand.
We help our franchise partners achieve their financial and professional goals while they help us expand our brand worldwide.
The computer industry is growing exponentially.
With 64 million computers shipped in 2005 alone, and 231 million computers in use in 2006, we are set to become a leader in the demanding technology services industry.
Share our success.
We have a great low-cost, turnkey system in place that allows our aggressive and ambitious franchise partners to become successful within their respective territories.
We want to maintain our quality.
Franchising allows us to be selective in who we allow to join the Nerd Force® system. By partnering with great people, we can provide great service.
WHAT WE HAVE TO OFFER
There are many benefits to becoming a part of the Nerd Force® Network. When you decide to join the Nerd Force® as a franchise partner we will provide you with all the support, marketing and administrative services you need to become successful.
Complete Support:
A state-of-the art support center. If you don't succeed, we don't succeed.
The Brand:
The power of an established brand and market recognition as well as positive customer satisfaction.
Training:
We will provide all the training you need to start your business and all the tools that will allow you to train your employees.
Call Center:
Our inbound Call Center is a customer service, sales and dispatch center which supports all of our franchisees. The Call Center allows our Franchise Partners to focus on growing their business rather than worrying about the back end obligations that are required with running a business.
Managed Services:
The ability to offer fully managed technology services to business clients, including 24/7 help desk, monitoring, data backup and email services, all provided by our state-of-the art Support Center.
Marketing:
Our partnership with Venue.com, a growing e-tailer of computers and electronics ensures that we are able to pass on to our franchisees service and installation requests across the United States.
Nerd Team:
A support TEAM, in the form of other qualified franchisees around your territory, to back you up, to assist you with large projects, service calls outside your area of expertise, and to support your customers when you are out or on vacation.
WHO WE WANT
Nerd Force® is a great opportunity for both seasoned technology professionals as well as individuals with no prior experience in the computer and technology services field. We have franchisees that provide their own services and those that hire other Certified Nerds to provide the services for them. So always remember, you don't need to be a Nerd to operate a Nerd Force® franchise. You must however have the dedication, drive and passion to succeed.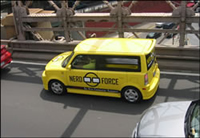 Nerd Force® is not a get-rich-quick scheme. We have found that if you are a dedicated individual, willing to work hard and follow the Nerd Force® system and methods, you should enjoy a great return on your time and investment. In fact, if you're an effective leader, you should own several Nerd Force® franchises. This is a business where earnings will be measured by your service to others. Your decision to be a franchise owner must be based on this passion.
To request more information about Nerd Force® or to speak with one of our franchise developers, simply complete the following form and we will contact you as soon as possible.
This Nerd Force IT franchise opportunity and other franchise business opportunities, businesses and franchises for sale on this web site are not to be considered as an "offering", "franchise offering", suggestion or recommendation by Franchise Leader™. This advertisement depends entirely on the truthfulness of the information provided by our advertisers which includes, but is not limited to, franchisers, franchise brokers, franchise consultants and business brokers. Franchise Leader™ recommends that you consult a lawyer, financial consultant, accountant or professional advisor before buying a franchise or business opportunity or any type of business. By using this form or any part of our website, you have agreed to all terms and conditions of Franchise Leader™. Please review our