NOVUS Franchising is a welcoming environment for people searching for a future career. We expertly train people with diverse backgrounds to operate a NOVUS Franchise and perform various technical services.
It is not necessary to know how to work on vehicles or do glass repair or replacement before becoming a NOVUS Franchisee. We are also interested in talking with current business owners that are considering integration of a NOVUS franchise into their existing business mix.
Today, nearly 400 NOVUS® franchises in North America and 2,000 locations in 40 countries deliver on the NOVUS® warranty promise every day. NOVUS® franchisees have performed over 25 million high quality windshield repairs. Are you ready to join us and be a part of the best glass franchise in the world?
NOVUS is Proud to announce Our New Company-Based Finance Program!
In this challenging economy, which has made it difficult for some qualified candidates to obtain bank financing, NOVUS has developed it's own finance program. You can now own your own NOVUS Franchise for as little as $6250 (Co Brand License) or $6450 (New Repair / Replace Franchise). This down payment will be paid on your first day of training. This finance program is available to all accepted candidates. There is no pre-pay penalties if you decide to pay off your loan in full.
"While the rewards of business can be great, success is never guaranteed. We made the conscious decision to buy a franchise because we wanted the best name recognition…the best business services…and an established national reputation. NOVUS® offered all these things and more". - Bob & Linda Brendal, Missouri
The Opportunity And The System…
At NOVUS, you are in business for yourself but you are not alone. Consider the time, energy and expense independent glass shops must invest to develop brand recognition, marketing materials, product purchasing programs, etc. As a NOVUS Franchisee, you join a 35 year old company with many proven programs and a great reputation.
Diversification / Opportunities (Add-on Service)

Communications




SRP Scratch Removal®
Spray in Bed Liners
NOVUS Headlamp savers
Tech zone/air bag services (Add-on Service)
Window Tinting
Flat and Window Glass
Truck Accessories




E-Mail Market Development Alert System
Internet Communications Network (ComNet)
Crack Reporter bi-monthly newsletter
Franchisee Mentoring Program
Localize PR Programs
And So Much More Awaits You With NOVUS!
Operations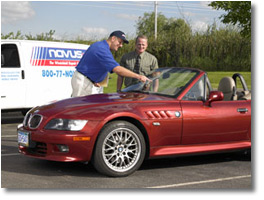 A proven business model
Business Operations Reference Manual
Franchisee-to-franchisee consultation and support
The industry's highest quality products and resins
National warranty program
NOVUS Research & Development Innovation
Preferred provider program - Glass tool advertising buy programs.
Instant Credibility
National and international brand recognition
25 Million+ satisfied customers
Training
Industry's best factory technical training
"Opening" and ongoing operational support
Business management training and support
Franchisee Mentoring Program
National Conventions and Regional Training
Marketing / Advertising
Internal Market Designer
Best in Class Local Area Marketing Program
Franchisee-to-franchisee consultation and support
Radio / TV Commercial Library
National warranty program
NOVUS public relations service
Brand Awareness national accounts program
Instant Credibility
National and international brand recognition
25 Million+ satisfied customers
There are other glass companies. But...they don't do what NOVUS does for customers with chipped and cracked glass.
This NOVUS Glass franchise opportunity and other franchise business opportunities, businesses and franchises for sale on this web site are not to be considered as an "offering", "franchise offering", suggestion or recommendation by Franchise Leader™. This advertisement depends entirely on the truthfulness of the information provided by our advertisers which includes, but is not limited to, franchisers, franchise brokers, franchise consultants and business brokers. Franchise Leader™ recommends that you consult a lawyer, financial consultant, accountant or professional advisor before buying a franchise or business opportunity or any type of business. By using this form or any part of our website, you have agreed to all terms and conditions of Franchise Leader™. Please review our