The Best Game on the Market
Although some have tried to imitate the Love Maine Lobster Claw game, don't be fooled. Ours is simply the best.
Our tank holds 25 to 30 pounds of lobster. Other games only hold about 6 to 12 lobsters!
Our game is built to support a heavy-duty lobster tank filtration system. Other games support the equivalent of a fish aquarium filtration.
Given its capacity and far superior filtration, the Love Maine Lobster Claw Game can be utilized in a multi purpose role. It can be an entertainment piece, a platform to sell lobsters out of (by the pound) for a convenience store, or as a holding tank for a restaurant's menu.
Buy a Love Maine Lobster Claw Game for $14,950 and Supplement Your Income
The Claw Game has paid for itself in as little as 10 months with gross weekly revenues of $500. With very little time and effort, your initial investment can be paid off and you can realize a supplemental income to help you achieve your financial goals. Contact us today to get started.
Invest $175,000 in a Love Maine Lobster Claw Turnkey Program and Achieve Financial Independence
When you invest in our Turnkey Program, Marine Ecological Habitats does all of the work to get your 10 Claw Games, placed, running and succeeding, and then we hand it off to you. This quality of life investment requires less than 20 hours of work a week to thrive and provide you with more time to be with your family, pursue other interests or just relax. We are there for you at every step by locating the most successful business locations for your games, setting them up, providing you with lobsters, and more. We can even help you secure financing for your investment. Contact us today to get on the road to financial independence.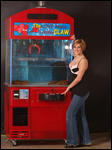 Love Maine Lobster Claw Game
Offering Investment Opportunities Ranging from Extra Income to Financial Independence
Customers Catch Their Own Lobsters While You Catch Great Profits
The Love Maine Lobster Claw game is taking the market by storm. People enjoy seeing these amazing creatures living in this healthy environment and love trying to catch their very own lobsters. Word about this unique and fun product is catching on as television, print and web media outlets have been reporting on the Love Maine Lobster Claw Game. This irresistible game is ideal for a variety of settings, including restaurants, supermarkets, bars and casinos. Our clients have seen customers flock to this game and have enjoyed amazing profits after putting the game in their places of business.
This Love Maine Lobster Claw, The franchise opportunity and other franchise business opportunities, businesses and franchises for sale on this web site are not to be considered as an "offering", "franchise offering", suggestion or recommendation by Franchise Leader™. This advertisement depends entirely on the truthfulness of the information provided by our advertisers which includes, but is not limited to, franchisers, franchise brokers, franchise consultants and business brokers. Franchise Leader™ recommends that you consult a lawyer, financial consultant, accountant or professional advisor before buying a franchise or business opportunity or any type of business. By using this form or any part of our website, you have agreed to all terms and conditions of Franchise Leader™. Please review our