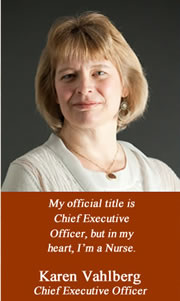 A Growing Need
The demand for Senior care services has never been stronger, and is growing…currently, more than 10,000 people per day are turning 65.
Home centered care and services are a proven business and are geared toward the local owner and local relationships…and now with LifeSpring's experience and support we are ready to help you build a successful senior care business. LifeSpring In-Home Care Network enhances the patient's health, quality of life, and peace of mind, offering hospice, home health and personal services.
Why LifeSpring In-Home Care Network?
While the LifeSpring franchise is a ground floor opportunity, the senior care industry is, and continues to be, an industry with consistent growth year after year. Coupled with the successful corporate track record of our location in Norman, Oklahoma for the past 10+ years, and the unparalleled experience and expertise in the health care arena by the owners and staff of LifeSpring, we offer a multi-revenue stream model designed for those entrepreneurs interested in building, growing and sustaining a viable business over time.
If you are ready to make the leap to business ownership and are looking for an opportunity that provides much-needed services to the community and takes advantage of your management skills and experience, LifeSpring may be the right fit for you.
Because licensed and certified home health care companies appear similar, choosing the right one can be difficult. Through the diversity of services we offer, as well as our belief that caring for others is truly our calling, LifeSpring In-Home Care Network has established itself as a leading provider of home care services.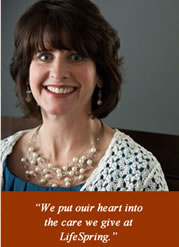 About Us
The owners and staff of LifeSpring bring experience, empathy and a strong clinical background to the franchise and have successfully operated the business model being offered under the franchise for over 10 years. Every detail has been addressed, and the systems are in place to help you grow your business and provide top-quality services.
Our depth of knowledge and experience in the Medicare and Hospice fields is unsurpassed. As a LifeSpring franchisee, you will be afforded the opportunity to work with the Katy Moody Foundation to affect a difference in your community and provide caring and compassionate services when a family needs them the most.
Training and Support
As a LifeSpring franchisee, you will receive on-site training, as well as follow up training as you add your additional services. Not only will we train you in the operation of your business, but all the components are in place for training your staff as well. Our on-line Operations Manual ensures you are kept up to date on all regulation and procedural requirements, and access to our on-line LifeSpring University will provide all aspects of hiring, personnel and operations of the business at your fingertips.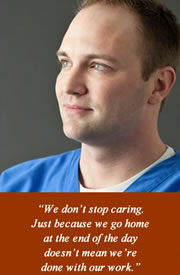 Ideal Candidate
Our ideal candidate is looking for a business that leverages their previous experience, takes advantage of their business strengths, and is ready to be in control of their future success.
We are looking for individuals who:
Are detailed oriented
Have experience in networking and relationship-building
Understand the importance of customer service
A medical background or experience in health care is not required.
Strong management skills are a must as our ideal candidate will oversee the day-to-day operations, manage their staff, build relationship within the medical community and drive and grow their referral network.
Next Steps
If you are ready to take advantage of this unique point in time to establish a business with huge growth potential and a very bright future and believe LifeSpring may be a good fit, simply complete and submit the "Request for Information" form. One of our representatives will contact you to begin the process.
This LifeSpring In-Home Care Network franchise opportunity and other franchise business opportunities, businesses and franchises for sale on this web site are not to be considered as an "offering", "franchise offering", suggestion or recommendation by Franchise Leader™. This advertisement depends entirely on the truthfulness of the information provided by our advertisers which includes, but is not limited to, franchisers, franchise brokers, franchise consultants and business brokers. Franchise Leader™ recommends that you consult a lawyer, financial consultant, accountant or professional advisor before buying a franchise or business opportunity or any type of business. By using this form or any part of our website, you have agreed to all terms and conditions of Franchise Leader™. Please review our