With a show designed by Lantis, our customers get:
State-of-the-art technology for the most elegant, powerful, and entertaining fireworks and laser extravaganzas you've ever seen.
Custom-designed indoor or outdoor visual effects by flexible, creative staff.
Trained, state-licensed pyro technicians and laser artists who adhere to strict standards of safety and professionalism.
High performance standards for all aerial shells, ground effects, laser programming and equipment.
Novelty and custom shells made exclusively for our customers.
All necessary permits, licenses and insurance.
Exceptional customer service and support from people who are professional, dependable, masters of their craft.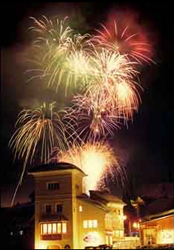 A System Geared To Your Success
Since 1945, the Lantis family has honed its business techniques into an effective system within the pyrotechnics industry. Lantis Fireworks Franchising Inc. has the advantage of the Lantis family's decades of experience, creating & sourcing the most spectacular products available today.

With the Lantis Fireworks Franchising management team, you have decades of experience and expertise at your side. You are in business for yourself, not by yourself. Whether its talking with you about finding a location, offering guidance on conducting a small display or helping you negotiate for a multiple show choreographed to music series of displays, the Lantis Fireworks Franchising strategic system can support you.
The Opportunity
We offer a well-supported business format for franchisees to acquire a license to establish, own and operate a Lantis Fireworks Franchise in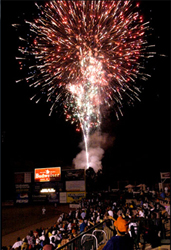 a defined territory. The one-time initial Franchise Fee enables us to provide you with the pre-opening training and the initial support necessary to get your Lantis business off the ground.

From the beginning, we provide you with training and technical support. You will receive comprehensive business training at both our National Headquarters and in the field. The support continues with on-going new product and sales training, as well as product and systems education. Our franchisees also receive a head start with the Lantis Fireworks & Lasers system of administrative support.
Is this you?
But you don't know anything about pyrotechnics or lasers? Your business management skills are the key to making your Lantis Fireworks & Lasers business a success. A mechanical background is not necessary! We assist franchisees with training techniques for employees in the technical aspects of pyrotechnic productions both indoor and outdoor.
This Lantis Fireworks Franchise Inc. franchise opportunity and other franchise business opportunities, businesses and franchises for sale on this web site are not to be considered as an "offering", "franchise offering", suggestion or recommendation by Franchise Leader™. This advertisement depends entirely on the truthfulness of the information provided by our advertisers which includes, but is not limited to, franchisers, franchise brokers, franchise consultants and business brokers. Franchise Leader™ recommends that you consult a lawyer, financial consultant, accountant or professional advisor before buying a franchise or business opportunity or any type of business. By using this form or any part of our website, you have agreed to all terms and conditions of Franchise Leader™. Please review our