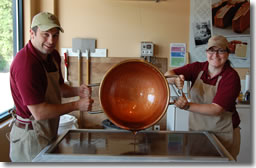 About Us
Looking for a different kind of Franchise Opportunity?
Are you tired of looking across multiple industries and still can't find the right Franchise Opportunity?
Can't find that perfect opportunity that is challenging, lucrative, and fun? Then you owe it to yourself to look into the Kilwins Chocolates Franchise Opportunity. Kilwins Chocolates, Fudge, and Ice Cream is a very exclusive opportunity with expansions in ideal locations available for only the top qualifying candidates. Kilwins represents Americana, something from yesteryear, but still a part of who we are today.
History
Since 1947 Kilwins has been a celebrated part of Americana having earned a reputation for providing high quality products and excellent service. Our heritage was built on the simple premise of creating our products from the finest ingredients and providing customers with great service. Today we continue the tradition by uniquely combining high quality products with a warm friendly customer experience that is supported through a successful community of caring owner operators. We continue to offer the finest quality traditional down-home confections and ice cream that are kitchen made fresh from premium ingredients and original recipes.
Our values are simple; Treat others as you want to be treated, Do your best, and Have fun! These values translate directly to a culture of people who are driven to provide an exceptional confectionery experience. Coupled with our high quality products, in-store craftsmanship, and genuinely friendly staff we create an atmosphere that our customers want to visit again and again. From sight, to taste, to touch, smell and sound a visit to Kilwins provides an authentic sensory and taste experience like none other. Our customers have come to know and love us as "My Kilwins" and share Kilwins with friends and family. Kilwins is where people celebrate, vacation, and share the experience of life, family, and gifting in a nostalgic Americana setting.
Why Choose Kilwins
We have single store, multi-store and area development opportunities available
Become a part of a true "Americana Experience"
We have a first class program
We have 82 stores and growing
We know how to run a store and can show you
We know how to deliver support for your store
We genuinely have a unique store experience, unlike any other you have been in
Combined with the right franchisee, an excellent location and our extraordinary product… we are a Chocolate, Confectionery and Ice Cream store that stands alone
Ideal Candidate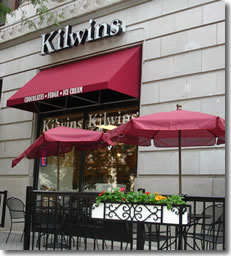 Kilwins franchisees are people who love people. They are passionate about doing whatever it takes to meet the needs of their customers and bring smiles to their faces. Their warm, outgoing, and "cup half full" personalities are contagious. These traits will attract similar people needed to build great teams and who do not permit or accept failure. The right prospect will believe in and is committed to the Kilwins system and are driven to succeed. They must be "all in." This means an unwavering dedication to a partnership that enables them to follow our system and bring all the senses to life by using their talents to grow community connections, build long term relationships with customers and employees and leverage their personalities to deliver exceptional service that brings customers back again and again. The right candidate will have an entrepreneurial spirit and the conviction to promote the Kilwins system. Our stores are our stage, and the performance takes dedication and discipline to be personally engaged in the store during each and every act.
This Kilwins Chocolates Franchise, Inc franchise opportunity and other franchise business opportunities, businesses and franchises for sale on this web site are not to be considered as an "offering", "franchise offering", suggestion or recommendation by Franchise Leader™. This advertisement depends entirely on the truthfulness of the information provided by our advertisers which includes, but is not limited to, franchisers, franchise brokers, franchise consultants and business brokers. Franchise Leader™ recommends that you consult a lawyer, financial consultant, accountant or professional advisor before buying a franchise or business opportunity or any type of business. By using this form or any part of our website, you have agreed to all terms and conditions of Franchise Leader™. Please review our