Instant Imprints Offers Multiple Profit Centers (5 Businesses in 1)

PROMOTIONAL PRODUCTS INDUSTRY
Over 5,000 suppliers and manufacturers offer hundreds of thousands of custom imprinted items sold exclusively through distributors such as yourself to every type of company in America and the world. You have instant on-line access to all of these products and suppliers.
SCREEN PRINTING & EMBROIDERY
These two make up our biggest profit centers - featuring the decoration of wearable's and accessories. Our franchisees have ability to produce beautiful quality designs from concept to completion - all in-house. This gives us maximum flexibility and control while allowing us to maintain the highest profit margins. Our unmatched training support allows you to grow your business a desired.
SIGNS & BANNERS
Training, equipment and technology will allow you to compete with just about every full service sign shop around. Your customers will only need to come to you for all of their promotional requirements. Our system lets you use existing client files to produce tradeshow, outdoor, and vehicle signage. Our package includes traditional vinyl cutting and new digital wide format, full color printing, for this high margin industry.
TRANSFERS & PERSONALIZATION
This is the ultimate in personalization. The latest technology is used to produce brilliant full color images on popular items such as mugs, T-shirts, mouse pads, bags, etc. Items can easily be produced individually or in bulk. Team numbering and lettering capabilities (as well as the ability to provide complete uniform packages) allow you access to the lucrative sports teams and league markets. margin industry.
US $50 Billion Combined Set of Industries Two Multi-Concept Business Models (Retail & Online)
The promotional advertising industry includes many different products and services. Most people don't realize just how immense this industry has become. Although they have been around for over half a century, the screen printing, embroidery, sign and promotional products industries lacked the technology to easily enter into them.
| | |
| --- | --- |
| | Until now, these fields were comprised of tens of thousands of independent shops across the United States. New innovations, as well as over thirty years experience, have allowed us to completely revolutionize these well established industries. |
We have successfully merged these normally separate businesses into a 'one-stop shop' with an identifiable brand image and an intelligent approach to marketing and sales. We have developed turn-key solutions for newcomers as well as created benefits and new systems for seasoned industry veterans.
With over 100 production centers in 3 countries, Instant Imprints offers two distinct business models for every investment level. There is the traditional retail location offering complete onsite production at any scale. There is also a new option that allows owners to operate the business part time and take advantage of online ordering.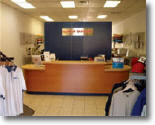 Retail and Online Models
In-House Production
Standard Business Hours
No Experience Necessary
Business to Business
30 Year Franchisor Experience
SBA Financing Available
Consider the Benefits
Comprehensive Training & Support
Showroom
Production
Flexibility (Retail or Online/Home Based)
Join Our Team
For years the Instant Imprints owners have modeled a successful system after the success of their own businesses. Instant Imprints is able to produce orders efficiently, offer the widest variety of products and services, while using minimum space and people. A system that ensures quality output and keeps the repeat business coming.
As an Instant Imprints franchise owner, your customer base is limitless. Nearly every company, school, organization, team and a growing numbers of consumers buy and use our services and products daily. As a whole, the industry has never seen a decline.
This Instant Imprints - The Image People franchise opportunity and other franchise business opportunities, businesses and franchises for sale on this web site are not to be considered as an "offering", "franchise offering", suggestion or recommendation by Franchise Leader™. This advertisement depends entirely on the truthfulness of the information provided by our advertisers which includes, but is not limited to, franchisers, franchise brokers, franchise consultants and business brokers. Franchise Leader™ recommends that you consult a lawyer, financial consultant, accountant or professional advisor before buying a franchise or business opportunity or any type of business. By using this form or any part of our website, you have agreed to all terms and conditions of Franchise Leader™. Please review our