IMS Internet Marketing Specialists

The #1 Internet Marketing Franchise
Here's Why...
1. We specialize in the hottest Internet business.
Our brand, IMS, is built around one of the hottest and most profitable businesses on the planet -- Internet Marketing. Internet Marketing is an extremely high growth market and it continues to grow year after year. Being recession proof, Internet Marketing gets stronger as people and businesses turn to the Internet for more cost effective advertising channels. IMS has tremendous brand strength. It's extremely clear what we do -- we are the Internet Marketing Specialists. Our clients feel confident and choose us over the competition knowing that they are working with the best.
2. We are the best at what we do.
Simply put, our Internet Marketing services are untouchable. The quality of our service is one-of-a-kind and it far exceeds the level of our competition. Our superior services are scalable to any size company, large or small. IMS is able to handle clients with one product or service, to corporations with thousands of products, to Fortune 500 companies. IMS also employs top industry experts, who are arguably the most knowledgeable and most experienced Internet Marketing Specialists. What this means for you as a potential IMS Franchisee... You are backed by the top company in the Internet Marketing business.
3. We have the largest revenue streams.
Internet Marketing is an extremely profitable business and companies are spending thousands of dollars per month to market their online businesses. IMS Franchisees don't just make a few hundred dollars from each client. IMS Franchisees make thousands of dollars per client, per order. IMS offers the highest quality Internet Marketing services with very handsome profit margins. To make your profits even greater, IMS Franchisees also benefit from monthly, recurring revenue streams.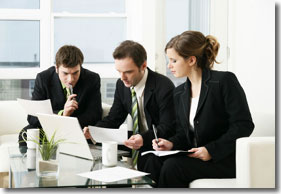 World-Class Training & Support
First and foremost, you will be trained by the top Internet Marketing Specialists in the industry. Our training program was brilliantly designed and incorporated into two levels. The first level of training provides you the essentials you need to get started with your IMS Franchise immediately. The second level of our training program, which is more comprehensive, was designed to turn you into an Internet Marketing Specialist. The knowledge and skills you derive from our training program is priceless. You will also have the ongoing support of the top Internet Marketing Specialists at your service when you need it. One of the biggest perks of being an IMS Franchisee is knowing that you'll be working with the best and that you can use our expertise to obtain successful results for your clients and to propel yourself to the next level.
Business & Personal Freedom
As an IMS Franchisee, you can achieve what most people have never accomplished their entire lives -- business and personal freedom. You will have business freedom, because you will be able to set your own hours and ultimately decide whether to work full-time or part-time. You also have the choice to work from an office, or from the convenience of your own home. Furthermore, you can also achieve personal freedom. IMS Franchisees simply establish client relationships and perform consulting, while we complete the actual technical work. This translates into more time for you to do anything you please on a personal level. IMS can help you establish personal freedom and the lifestyle you want, for yourself and for your family.
No Technical Background Required
Absolutely no technical background is required for you to become an IMS Franchisee. You simply establish client relationships, while IMS performs the actual technical work. However, we do prepare you for your clients by offering you our complete and comprehensive training program with full ongoing support.
Clients Provided
We employ a very fair and effective system of client referrals. Our referral methods are based on a first-come-first-serve basis, so that every IMS Franchisee has an equal amount of unique client referrals. As soon as we provide a client to one franchisee, we provide the next lead to the next franchisee, and so on and so forth.
Bottom Line: A Successful Franchise System
This is a once-in-a-lifetime opportunity for you to become a part of the successful IMS franchise system. We specialize in the hottest Internet business, we are the best at what we do, and we have the largest revenue streams. Our slogan says it best -- We'll take you to the top!
Additional Information
Franchise Fee: $49,700
No Royalty Fees
No Advertising Fees
No Restricted Territories
No Minimum Sales Quotas
No Renewal Fees
No Relocation Fees
Clients Provided
This IMS Internet Marketing Specialists franchise opportunity and other franchise business opportunities, businesses and franchises for sale on this web site are not to be considered as an "offering", "franchise offering", suggestion or recommendation by Franchise Leader™. This advertisement depends entirely on the truthfulness of the information provided by our advertisers which includes, but is not limited to, franchisers, franchise brokers, franchise consultants and business brokers. Franchise Leader™ recommends that you consult a lawyer, financial consultant, accountant or professional advisor before buying a franchise or business opportunity or any type of business. By using this form or any part of our website, you have agreed to all terms and conditions of Franchise Leader™. Please review our