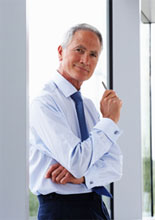 Looking to own your own business?
FranChoice will help you find the right franchise opportunity.
FranChoice's industry experts work with you to select a franchise business that perfectly matches your personal profile and financial qualifications.
This free consulting service saves you time and money in your franchise search, and provides you with the tools to make the right choices for you and your family.
Business Ownership, Made Possible by FranChoice
"I had the pleasure of working with a consultant at FranChoice in early 2007, two weeks after I had been laid off from an executive position and was in a period of transition in my life."
"During the entire process, our consultant was available whenever we needed him - both for information and moral support. He treated us like individuals, and I always felt that he put our well-being first."
"We ended up with a franchise that we ultimately bought - it reflects everything we talked about with our consultant, and immediately felt like we "fit like a glove" with the franchisor and the community of existing franchisees. My wife and I are looking forward to many years of success with our franchise, and to the new life we will be creating as a result of being in business for ourselves."
David W. – Franchise Owner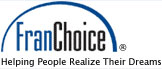 If you're ready to take charge of your future, please click on the Request Information button below. Complete and submit the short online form, and one of our franchise experts will contact you within one business day.
Let the experience and guidance of our industry experts help you investigate and select a franchise opportunity that is perfect for you!
FranChoice is a free, one-on-one consulting service for people who are looking to purchase a franchise business of their own. We have helped THOUSANDS of new entrepreneurs.
If you have been thinking about owning your own business, have at least $100,000 net worth and $20,000 to invest in a franchise and live in the United States, you owe it to yourself to learn more about this unique service.



HAVE YOU EVER DREAMED OF OWNING YOUR OWN BUSINESS?
This FranChoice franchise opportunity and other franchise business opportunities, businesses and franchises for sale on this web site are not to be considered as an "offering", "franchise offering", suggestion or recommendation by Franchise Leader™. This advertisement depends entirely on the truthfulness of the information provided by our advertisers which includes, but is not limited to, franchisers, franchise brokers, franchise consultants and business brokers. Franchise Leader™ recommends that you consult a lawyer, financial consultant, accountant or professional advisor before buying a franchise or business opportunity or any type of business. By using this form or any part of our website, you have agreed to all terms and conditions of Franchise Leader™. Please review our