The History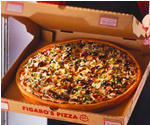 Figaro's Pizza was a pioneer in the Take & Bake pizza business 28 years ago. Ovens were added ten years later. Take & Bake is still a significant portion of sales in our stores and a unique point of differentiation.

We've recently refreshed our brand image including an updated logo, new ads, boxes, menus and a new store design. The store design combines the feel of a Tuscan kitchen with modern merchandising elements as well as lighthearted touches like posters drawn by a prize winning children's book illustrator. The décor is warm and inviting as are the smiles on the faces of our staff and customers.

Figaro's Pizza stores can be designed to fit a variety of retails spaces. The primary layout is for a 1,000 to 1,200 square foot delivery / carry-out model. For larger spaces, seating can be included and the décor and merchandising elements include a viewing window so kids and adults both can watch their pizza being made and learn about the freshness and flavor our products.
The Package

We offer assistance in nearly every aspect of your business, from site selection, lease negotiation and construction to training and ongoing marketing and operations support. Our team of professionals assures that while you may be going into business for your self, you are not going by yourself.
The Taste
We make dough fresh in the store daily
We use only 100% REAL Cheese
We use only the choicest meats with no fillers and excess fat removed
We use only the freshest, select vegetables - never canned or frozen
We use special, custom-blended spice mixtures
We never use MSG in any of our ingredients
Our recipes combine these great ingredients into pizzas that have a unique taste per bite. The distinctive flavors of our pizzas lead consumers to consider Figaro's a great choice and a great value for their family's dinner.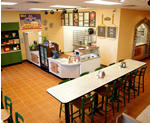 Fresh ingredients generously portioned lead to our pizzas having "Flavors That Sing!" Consumers love the food and you'll love the system. Celebrating our 28th anniversary in 2009, we've recently completed a brand refresh and have a new store design for both delivery / carry-out units as well as sit-down units. We provide continuously updated training, operations and marketing support both in the field and from the corporate office. We are accepting applications for single store and multiple store operators as well as Master Franchise area developers.
This Figaro's Pizza franchise opportunity and other franchise business opportunities, businesses and franchises for sale on this web site are not to be considered as an "offering", "franchise offering", suggestion or recommendation by Franchise Leader™. This advertisement depends entirely on the truthfulness of the information provided by our advertisers which includes, but is not limited to, franchisers, franchise brokers, franchise consultants and business brokers. Franchise Leader™ recommends that you consult a lawyer, financial consultant, accountant or professional advisor before buying a franchise or business opportunity or any type of business. By using this form or any part of our website, you have agreed to all terms and conditions of Franchise Leader™. Please review our