Why FAST-FIX?

FAST-FIX offers you a complete package for your exciting new business. Don't worry if you have no jewelry or watch repair experience - FAST-FIX gives you full training and our superb support system will help you with your business every step of the way. We offer the means to develop a business that is only limited by the amount of time and effort you are willing to commit and by your imagination.
No Jewelry Experience Necessary

FAST-FIX franchise owners come from all walks of life, from corporate executives to previous business owners, real estate agents to restaurateurs, jewelers to accountants, retail managers to teachers.
The FAST-FIX business system has allowed many franchise owners with absolutely no jewelry background to succeed by taking advantage of 24 years of refinement of a proven business model.
Full Training- FAST-FIX continues to be recognized as a premier franchising company. We believe a major component of this is the multi-tiered classroom and onsite approach to training you receive prior to becoming a franchise owner.

Site Selection & Real Estate - FAST-FIX provides everything you need to get started. We secure the most visible site in the mall; we negotiate the lease; we construct your store and we provide the initial inventory and equipment to so that you don't have to sweat the details.
Initial Training - New franchisee orientation and training takes place for 10 days at the FAST-FIX University School, located in Delray Beach, Florida. Our training program covers every aspect of our business - including hiring, training, store organization and workflow, sales, intake, customer service, store policy, management tools, POS, inventory, marketing and merchandising, and safety & security - so that you have the materials and tools to be successful in the jewelry and watch repair business.
Grand Opening Assistance - A FAST-FIX trainer will be with you prior to, and during the opening of your new store to ensure a smooth start. In a matter of days, you will be ready to serve customers on your own, with FAST-FIX's 24/7 support department just a phone call away. FAST-FIX's program includes banners, invitations, flyers, giveaways and the assistance to make your opening truly grand!
Support - FAST-FIX Operations and Franchising staff work directly with you from the moment you graduate from our training program. The primary job of the Operations staff is to be with you every step of the way, providing assistance to our franchise owners whenever it is needed.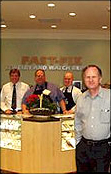 The Fast Fix Family
When you purchase a FAST-FIX franchise, you are joining a family. From step one, throughout the entire franchise process, the FAST-FIX system provides training and guidance that aids in the operation of each store.
Our system has been built around the relationship that we have with our franchise owners and has been a key factor in FAST-FIX growth for the last 24 years. We value our franchise owners and we collaborate with them on virtually every aspect of our franchise business.
We're certain once you've experienced what our franchise system has to offer, you'll understand why so many people have joined the FAST-FIX family.
What our Franchise Owners are Saying
"I've been in the marketing and merchandising end of the jewelry industry for over 20 years, working for retail store chains and major manufacturers. I found that there was a consumer need to be filled by fast, efficient, quality jewelry and watch repairs. I also wanted to start my own business. That's why I became the first franchise owner in the chain back in 1987. Having locations in major regional malls puts us in front of the customers who are in the buying mode. It's profitable, it's challenging and it's enjoyable too!"
Peter LeCody owns 5 FAST-FIX stores in Dallas, Texas and is celebrating his 20th Anniversary as a FAST-FIX Franchise Owner.
"I was a General Manager in the food services industry for over 25 years, and was tired of the constraints of working for someone else. FAST-FIX has helped me achieve my goals. Their franchising system offers support, while allowing the individual owners to control their stores. If you like people, desire success and want to enjoy a lucrative business, this will work for you - even if you are like me and have no jewelry experience."
Fred Gosielewski owns 4 FAST-FIX stores in Phoenix, Arizona.
This Fast-Fix Jewelry and Watch Repairs franchise opportunity and other franchise business opportunities, businesses and franchises for sale on this web site are not to be considered as an "offering", "franchise offering", suggestion or recommendation by Franchise Leader™. This advertisement depends entirely on the truthfulness of the information provided by our advertisers which includes, but is not limited to, franchisers, franchise brokers, franchise consultants and business brokers. Franchise Leader™ recommends that you consult a lawyer, financial consultant, accountant or professional advisor before buying a franchise or business opportunity or any type of business. By using this form or any part of our website, you have agreed to all terms and conditions of Franchise Leader™. Please review our