What our Franchisees Have to Say
There is absolutely no comparison to make with other franchise systems in this area. From top management on down, there is a willing ear. If there is an idea that will help the business grow and evolve, my experience has been that they are ready to hear and implement it. Fellow franchisees? I have never seen a more supportive group. Every time I have asked for help, it has been there. A good number of the Southern California franchisees are getting together now on a frequent basis.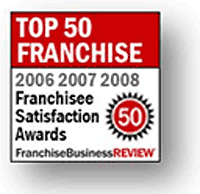 These are reasons that I chose this franchise. From my first contact with the folks in Franchise Development to this moment, there has never been unfulfilled promise. There are tools in place to facilitate system-wide communication, and they are well used by the franchisees. –Pete Wendy, Irvine, CA – FASTSIGNS Owner since 2007
As a franchise system, FASTSIGNS is one of the best run companies I have ever been affiliated with. If you are looking to purchase a sign franchise, FASTSIGNS is by far the most professional and ethical sign franchise I have had the privilege to work with. – Jamie Kline, Brooklyn Center, MN – FASTSIGNS owner since 2001
In all my due diligence within the sign business category, FASTSIGNS International came up on top in every area. I feel that FASTSIGNS goal is to make the franchisee's as successful as possible. - David Becker, Arlington Heights, IL - FASTSIGNS owner since 2004.
Support
As a FASTSIGNS® franchisee, you will have our direct and active support from the very beginning:
Professional expertise to guide you through the site selection and build-out process
Up to Five Weeks of initial training; One week of training in a FASTSIGNS® center, followed by two weeks at our Headquarters outside of Dallas; two weeks of on-site support and guidance during your store's Grand Opening
Active, ongoing personal support in every aspect of your business
Many franchisors derive profit by providing financing, leasing and selling inventory supplies. At FASTSIGNS®, we depend primarily on the royalties from our centers for our corporate revenue stream. As you grow sales and profitability, we succeed.
Our Mission: Sign and Graphics Solutions Made Simple for Everyone
At FASTSIGNS® we believe the most important factor in our success is the fact that we are absolutely committed to giving our franchisees every possible competitive advantage.
Owning a FASTSIGNS® franchise is extremely rewarding, exciting, and dynamic!
Approximately $260,000 turnkey investment ($35,000 working capital). Minimum financial requirements: $250,000 net worth, $75,000 liquidity.
Corporate Commitment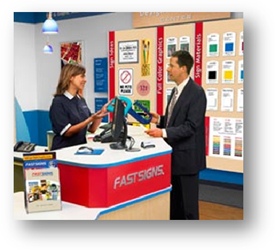 At FASTSIGNS®, our primary goal is to help our franchisees build their business. And were accomplishing our goal!
Our average per store gross sales have increased 16 of the last 17 years to $637,000 in 2007**
**Average gross sales for the period ending 12/31/07 as stated in our Franchise Disclosure Document.
As a FASTSIGNS® franchisee, you will have the benefit of one of the most respected brand names in the sign business and in franchising as a whole. Additionally, you will have the support of the industry's most thoroughly researched and proven systems for operations, marketing, finance and overall business management.
---
Join a recognized leader in the sign and graphics industry.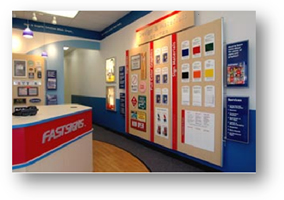 FASTSIGNS® centers use state-of-the-art computer technology to create custom signs, graphics, banners, trade show exhibits, vehicle graphics and much more. A pioneer in the sign industry, FASTSIGNS® has continued to grow by optimizing our systems and expanding the scope of our products and services. Today, with a growing store network of over 550 centers spanning the globe, FASTSIGNS® is an acknowledged leader in one of the world's most dynamic franchised industries.
This FASTSIGNS franchise opportunity and other franchise business opportunities, businesses and franchises for sale on this web site are not to be considered as an "offering", "franchise offering", suggestion or recommendation by Franchise Leader™. This advertisement depends entirely on the truthfulness of the information provided by our advertisers which includes, but is not limited to, franchisers, franchise brokers, franchise consultants and business brokers. Franchise Leader™ recommends that you consult a lawyer, financial consultant, accountant or professional advisor before buying a franchise or business opportunity or any type of business. By using this form or any part of our website, you have agreed to all terms and conditions of Franchise Leader™. Please review our