Operational Simplicity_ we like working smart, not hard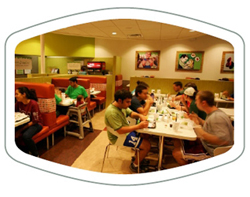 EVOS® is the 'Original' healthier fast food restaurant. Yup, we started this thing in 1994. We've been doing this for way over a decade, which means: our systems are the most efficient and the most effective to make your job as easy as possible while executing under 3 minute ticket times; our marketing strategy has been tested, tried, and true, to bring in guests and retain them; our management tools and technology make developing, maintaining, and motivating a great team simpler and easier; and our proven recipes have been carefully developed, and tested, to make any skeptics mouth water and brain erase the myth that healthier doesn't taste better.
Honest Support_ we have one goal in common, and you're a part of it
We care about your success because your success means progress for our values. And of course more people eating better. We support you and guide you through every aspect of running your business, and most importantly to be the most ethical and admired business in your community. We don't treat you like a number, but as a living extension of ourselves.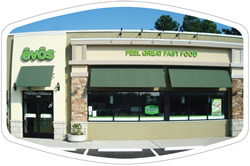 Healthy Opportunity_ people, planet, profits
EVOS® is not only a ground floor financial opportunity. You will feel great knowing you are also making a difference in your community and the planet. While doing your part, you will be gifting thousands of excited patrons the opportunity to enjoy the All American meal of burgers, fries, and shakes-without the aftereffects. As an EVOS® franchise owner, you'll not only be part of an opportunity, you'll be serving it as well.
Product In-demand_ burgers, fries, and shakes that are 50-70% less fat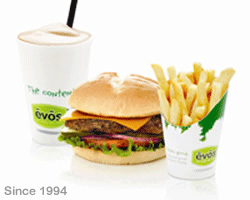 Finally, fast food you can feel great about. Other restaurants merely accommodate with a few 'lower fat' or 'lite' menu items—EVOS® serves up an entire menu of choices to meet the needs of many different lifestyles. Our recipes are made with high quality healthier ingredients like our naturally raised hormone & antibiotic free Steakburger and Low Fat Organic Milkshakes. No other franchise can match our commitment to: less fat, calories, and cholesterol; higher quality natural ingredients; organic ingredients; and more importantly great taste.
Stand out from the crowd_ start something new
Ok, so why bother fighting for market share in a landscape full of sub/sandwich shops, burrito joints, and pizza places? Hundreds of communities in our country are starving for a 'healthier fast food fix'. EVOS® exists because there is a serious demand for the opportunity to continue to enjoy the All American burger occasion, made healthier. EVOS® is a fresh, fun, forward thinking, and financially rewarding franchise opportunity. That isn't too granola.
Recent Recognition
"Top new franchises."-Entrepreneur Magazine
"A fast food place that didn't make you feel sick after you ate."-USA Today
"Forget the fat! Fast food doesn't need to be bad for you- just ask these three innovators." -Southern Living Magazine
"Good for you fast food! A new breed of restaurant chain is offering surprisingly healthy fare." -Fitness Magazine
"Electric Companies! A gang of brand-new restaurant concepts is aglow with expansion plans."-Restaurant Business
"It took a bit of tweaking but three guys from Florida may have hit on a successful formula to mass market healthy dining". -Restaurant Hospitality
This EVOS...Healthier Fast Food franchise opportunity and other franchise business opportunities, businesses and franchises for sale on this web site are not to be considered as an "offering", "franchise offering", suggestion or recommendation by Franchise Leader™. This advertisement depends entirely on the truthfulness of the information provided by our advertisers which includes, but is not limited to, franchisers, franchise brokers, franchise consultants and business brokers. Franchise Leader™ recommends that you consult a lawyer, financial consultant, accountant or professional advisor before buying a franchise or business opportunity or any type of business. By using this form or any part of our website, you have agreed to all terms and conditions of Franchise Leader™. Please review our