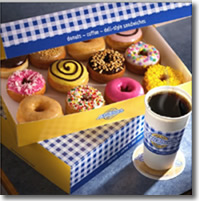 With more than 80 years of donut-making to our name, Dixie Cream knows how to make donuts that defy comparison. Notice that our donuts are a little taller than others. Notice, too, the golden band around the middle of a Dixie Cream. That's our promise of light and creamy melt-in-your-mouth goodness that just gets better by the bite.
Q. What does the franchise system include?
A.Owning and operating an assigned Dixie Cream Donut restaurant use of the brand name, trademarks, recipes, operational systems and methods, and decor. Additionally, you will receive support in these specific areas:
Facility planning on site location and architectural design
Specifications for fixtures, equipment, and leasehold improvements
Assistance in site selection and lease negotiation
Corporate training for Owner/Operator and Director of Operations/General Managers
Kitchen/ Back of the House Workflow design

Ongoing support from members of the Training and Operations Team
Ongoing updates for increasing profitability
Products with high industry demand
Efficiency in all systems
Favorable national contracts with suppliers of goods and services
Operating manuals, policies, procedures, and business management systems.
Q. Is there any experience necessary to own a Dixie Cream Donut restaurant?
A. Yes, but not necessarily in foodservice. Dixie Cream actively searches for candidates with a strong background in business management.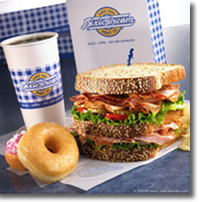 Q. Do I need to be involved in the day-to-day operation of my franchise?
A. At least one owner or a designated manager must be involved on a full-time basis and must be responsible for the day-to-day operations and management.
Q. I'm interested in a Dixie Cream Donuts franchise. What do I do next?
A. Fill out the personal profile form and return it to the address indicated. A Beautiful Brands representative will contact you and start you down the road to owning your own business.
This Dixie Cream Donuts franchise opportunity and other franchise business opportunities, businesses and franchises for sale on this web site are not to be considered as an "offering", "franchise offering", suggestion or recommendation by Franchise Leader™. This advertisement depends entirely on the truthfulness of the information provided by our advertisers which includes, but is not limited to, franchisers, franchise brokers, franchise consultants and business brokers. Franchise Leader™ recommends that you consult a lawyer, financial consultant, accountant or professional advisor before buying a franchise or business opportunity or any type of business. By using this form or any part of our website, you have agreed to all terms and conditions of Franchise Leader™. Please review our