The $70 billion dental industry topped the list in 2008 as being the most profitable
industry in the United States. We have developed a way in which you can tap into
the power of this highly lucrative industry without becoming a dentist yourself.
About Us
In 2003 we set out to develop a unique business opportunity; one where we could create a competitive advantage with in-house expertise in a secure and proven industry. We found that opportunity in the field of dentistry.
Dentistry has a 99% success rate; less than 1% of all dentists fail financially. However, most dentists struggle with the day-to-day business aspects by spending half of their time trying to deal with the business needs of their practice. While the business issues are important, even vital to success, they do not generate any income. This is where we offer expert help.
A Unique Opportunity
Our unique practice management franchise offers:
Passive ownership opportunity without the need of an operational partner.
No prior dental training, licensing, or experience is necessary.
Dental professionals control all of their patient's treatment programs.
Prequalified locations are identified in advance, carefully reviewed to insure they meet stringent demographic requirements.
Automatic membership in the Dazzle Dental Franchisee Association with top-level input and communications.
Remote access to valuable reports via a secure computer link, available 24/7.
Unprecedented on-going support helps enhance the growth of the practice and maintenance of financial and in house security.
Support
We provide additional support in the form of Regional Business Managers and Regional Support Dentists who insure that our patented and trademarked services and procedures are followed, security levels maintained, and that the quality of dentistry performed is of the highest caliber.
Dazzle Dental's Exclusive System provides expert management in support of personalized high quality dentistry by covering all the business and administrative functions. This includes a unique and extensive marketing program, the results of which have surpassed all industry performance standards. This has given us unprecedented financial results.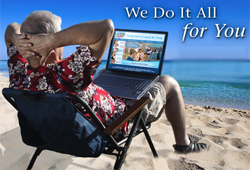 We Can Do It All For You
Unlike most other franchises, we do the most of the work for you. We offer passive ownership opportunities without the need for an operational partner. We provide and train the professional office support staff for you through a ridged on-going recruitment program using the latest management techniques and proven methods. This means absolutely no prior dental training, licensing, or experience is required to become a Dazzle Dental Franchisee. By separating the art of dentistry and the business management of the practice we pull together the very best of both worlds to create multi-disciplined centers of dentistry for individuals and families of all ages.
Immediate Opportunities Available
We offer franchise opportunities for smaller General Service Centers (general practice) and larger multidiscipline Specialty Service Centers. Discounts given on multiple location deals.
This Dazzle Dental franchise opportunity and other franchise business opportunities, businesses and franchises for sale on this web site are not to be considered as an "offering", "franchise offering", suggestion or recommendation by Franchise Leader™. This advertisement depends entirely on the truthfulness of the information provided by our advertisers which includes, but is not limited to, franchisers, franchise brokers, franchise consultants and business brokers. Franchise Leader™ recommends that you consult a lawyer, financial consultant, accountant or professional advisor before buying a franchise or business opportunity or any type of business. By using this form or any part of our website, you have agreed to all terms and conditions of Franchise Leader™. Please review our