Steps To Information
Contact Us - Visit with one of our principal partners, Tom Wilscam. He will chat with you about your desires and your situation.
Based on our conversation, a comprehensive company brochure will be sent to you.
After you have had an opportunity to review our material and services, Tom will call you.
We will provide you with a client list so that you check on our integrity, qualifications and success.
However, everything begins with the first step.

Testimonials
"You helped make my dream come true."
Joseph and Cecilia Picciallo. New Jersey.
"Working with Cromwell was in fact the best investment we made."
Bill & Susan Brazeau, WI.
Services
Business Plan
Site Selection
Building Sales
Maximizing Profits

Operation Manual
Equipment Specs and Sales
Menu Design
Architectural Design
Cromwell Corp is a Professional Restaurant Consulting Service. Our comprehensive knowledge of the food-service industry and recipe for success has been repeatedly proven over the last fifteen years.
Want to open your own restaurant and pay no franchise fees or royalties?
There is an alternative to buying a franchise! Cromwell Consulting offers an opportunity for individuals to enjoy the same successes that many Restaurant owners are experiencing all over the Unite States. You will receive the proven, successful systems associated with the benefits of a successful franchise without the opening fees or royalties associated with a franchise.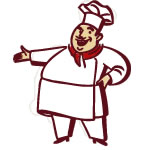 Save 7 to 12% on royalties and marketing funds that can amount to 50% of your net profit.
Business Plan
Architectural design
Menu design
Equipment specs & purchases
Operations Manual
You own your own Restaurant but need help.
The principles of Cromwell have over 75 years of owning, operating and consulting successful restaurants. In that time we have successfully delt with any problem that you may have. We specialize in identifying problems and providing action plan solutions.
Building sales
Maximizing profit
Standardizing systems
Cromwell can do it all for you. Don't do anything until you talk with us. Learn what it means to have 75 years of restaurant experience working for you.

This Cromwell Restaurant Consultants franchise opportunity and other franchise business opportunities, businesses and franchises for sale on this web site are not to be considered as an "offering", "franchise offering", suggestion or recommendation by Franchise Leader™. This advertisement depends entirely on the truthfulness of the information provided by our advertisers which includes, but is not limited to, franchisers, franchise brokers, franchise consultants and business brokers. Franchise Leader™ recommends that you consult a lawyer, financial consultant, accountant or professional advisor before buying a franchise or business opportunity or any type of business. By using this form or any part of our website, you have agreed to all terms and conditions of Franchise Leader™. Please review our