The Business
Computer Troubleshooters is the world's #1 provider of onsite computer services and IT consulting to small businesses and home users.
Each "CT" provides a comprehensive range of local services either directly or through our support network, including:
Onsite Hardware & Software Support
Network Installation, Maintenance, and Administration
Software Installation & Troubleshooting
Data Backup
Virus Protection & Spyware Removal
Staff Training & Strategic Planning
Business Operations Support
Regular System Maintenance
New Installations & System Upgrades
Website Design & Internet Services
Security Analysis and Consulting
Custom Software Development
Technology Consulting
Managed Service Plans
What do I get when I join Computer Troubleshooters?
To help our franchisees be the best in the business, Computer Troubleshooters provides extensive training and support, as well as vendor and national customer partnerships.
Here are just some of the benefits you'll receive as part of Computer Troubleshooters:
Team Membership
World-Class Training
Our Resource Library
Access to our Business Enhanced Support
Technology (BEST) platform, Free use of our own custom-developed TOPS business management application.
Technical Support
Our top notch Business Support
Our National Accounts program
Our National Preferred Vendor program
Our optional Business Center
Plus dozens of other services
Testimonial
"Now as I look back on my decision to join Computer Troubleshooters I don't have a single regret. They have helped me every step of the way. They are much more than a Franchisor. They care whether or not I am doing well. Ideas flow freely, you can agree or disagree everyone is heard. I came from the Corporate World and had never experienced anything like this."

Being in business for yourself not by yourself
"truer words have never been spoken."
—Denise Farag, Computer Troubleshooter since 2002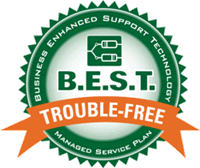 The potential market for on-site computer services is huge. Almost all small businesses and home offices use computers and depend on them to be working properly. They do not have the skills, the time, or the desire to do their own computer service, repair, and upgrades and they don't generally have the expertise to implement emerging new technologies such as Voice-over-IP, Secure Wireless networking, or Telecommuting solutions. That puts us right in the middle of one of the most needed and fastest growing industries in the world.
Our competition comes from both national chains, such as Geek Squad or Firedog, as well as local "mom-n-pop" independent computer service firms. Our experience shows that customers prefer the knowledge and accountability of a locally owned firm, but they also like the credibility and reliability of a nationally known brand. Computer Troubleshooters franchisees offer them the best of both worlds.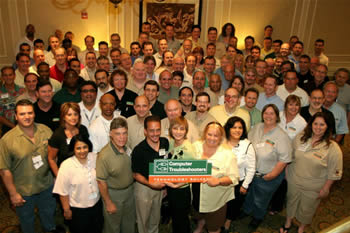 This Computer Troubleshooters franchise opportunity and other franchise business opportunities, businesses and franchises for sale on this web site are not to be considered as an "offering", "franchise offering", suggestion or recommendation by Franchise Leader™. This advertisement depends entirely on the truthfulness of the information provided by our advertisers which includes, but is not limited to, franchisers, franchise brokers, franchise consultants and business brokers. Franchise Leader™ recommends that you consult a lawyer, financial consultant, accountant or professional advisor before buying a franchise or business opportunity or any type of business. By using this form or any part of our website, you have agreed to all terms and conditions of Franchise Leader™. Please review our