Industry:
Health and Beauty
Business Type:
Franchise
Financing Available:
Support and Training:
Total Capital Investment:
$42,000
Liquid Capital Required:
$61,910 - $88,780
Net Worth Required:
$200,000


Franchise Opportunities > Comfort Keepers Franchise Info



Success through Caring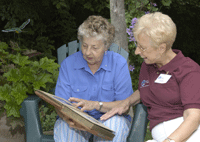 Ask any Comfort Keepers franchise owner about being in the business of providing care for seniors, and they will tell you that it is one of the most rewarding ways they have ever earned a living. With approximately 36 million aging adults in America - and that number is expected to exceed 70 million over the next two decades, a fertile new industry has rapidly been growing, offering an entrepreneurial path to build a business and touch people's lives.
We invite you to learn more about the Comfort Keepers franchise program where you can achieve success through caring.
Non-Medical In-Home Care Facts
The average senior is spending approximately $5,600 per month for care in a private room in a nursing home. MetLife Mature Market Institute 2003
There are currently 36 Million Seniors in the U.S. Over the next few decades that number is projected to exceed 70 Million. U.S. Census Bureau
It is estimated that annual expenditures on home care exceeded $41 billion in 2001. National Association of Home Care
By 2005, 37% of all U.S. Workers will face more concern in caring for a parent than caring for a child. Aragon Consulting
More than 12 million Americans require some long-term care. As many as 6 out of every 10 Americans have family members or friends requiring long-term care services. 8 out of every 10 would prefer to have care provided at their family member's home. U.S. General Accounting Office
One of the fastest-growing occupations now through 2012 is Personal/Home Care Aides. Faster than Systems Analyst, Computer Engineers, Medical Assistants, Paralegals, Occupational Therapy Aides or any other occupation. Bureau of Labor Statistics
Seniors prefer to remain in the privacy and comfort of their own home versus moving to a nursing home or assisted living center. Ask Any Senior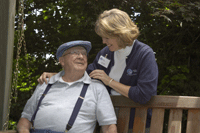 Comfort Keepers Franchise Facts
Total Investment: $32,500 Franchise Fee. The Franchise fee, total start-up costs and working capital requirements may bring your total investment to approximately $49,750-$73,780.
Exclusive Territory: Exclusive and Protected Territories of 175,000. We work with you to design an effective territory based on general population, senior populations over 65, and average household income demographics.
Affordable Royalty: A very unique royalty structure that rewards franchisees because the percentage of royalties is reduced as your business grows. Royalties go down from 5% to as low as 3%.
Scheduling Software: Every new Comfort Keepers franchise includes the first-year use of a proprietary software from invoicing, scheduling and telephonic tracking of services.
Multiple Services: We offer Homemaking and Companionship services along with the opportunity to provide Personal Care services, based on your interest. (Note: Provision of Personal Care services may require state licensing or accreditation, but we help you explore the added service opportunity and state requirements.)
Field Support: We offer a team of Franchise Business Consultants who work in the field with our owners providing operational support and guidance.
Training Programs: Intensive 8-Day Training Course for new owners and general managers and on-going offerings available.
In Business For Yourself, Not By Yourself: One of the biggest advantages of joining a franchise system is the power of our network including volume-purchasing programs (benefits, office supplies, insurance, etc.) as well as customized support tools such as a web-based caregiver scheduling system.
Why Comfort Keepers?
We are ranked as one of the Top 3 Franchise Systems in Senior Care by Entrepreneur magazine and have become one of the fastest-growing new franchises in America, as recognized by INC., Wall Street Journal, Successful Franchises, Entrepreneur, HGTV, and over 100 major newspapers.
We believe our caregivers are our greatest asset. Our entire system is built around recruiting, training, and retaining the highest quality of caregivers for all of our clients.
This is a business of caring. There is nothing more rewarding you can do in your life than be able to positively touch people's lives. You can find businesses that are personally rewarding and you can find businesses that are financially rewarding, but it is not every day you can be in a business that can be both!
We are very committed to building the Comfort Keepers business with strong, pre-qualified entrepreneurs. The quality of our franchisees reflects the quality of our company.
Our client satisfaction ratings surpass 95 percent. We continually survey the quality or our services—No other company can match our client satisfaction levels.
Comfort Keepers was recently recognized as a Top 50 Franchisor by Franchise Business Review, based on their survey of our franchise owners.



Click on Request Information for FREE info on how to open a Comfort Keepers franchise today!
Please Note:
This Comfort Keepers franchise opportunity and other franchise business opportunities, businesses and franchises for sale on this web site are not to be considered as an "offering", "franchise offering", suggestion or recommendation by Franchise Leader™. This advertisement depends entirely on the truthfulness of the information provided by our advertisers which includes, but is not limited to, franchisers, franchise brokers, franchise consultants and business brokers. Franchise Leader™ recommends that you consult a lawyer, financial consultant, accountant or professional advisor before buying a franchise or business opportunity or any type of business. By using this form or any part of our website, you have agreed to all terms and conditions of Franchise Leader™. Please review our
Terms & Conditions
for more information.