Put your financial future in safe hands—YOURS!
As an owner of a Chem-Dry franchise you'll combine your strong work ethic, entrepreneurial focus and desire to control your future with a proven, 30 year-old, industry leading franchisor.
What will we bring to the partnership?



Unique Marketing - Setup a Chem-Dry kiosk and do demos for customers in your local Home Depot store(s)*. In addition to Chem-Dry's 30 years of marketing success, we'll help you benefit from the marketing power of the nation's second largest retailer.

Protected Competitive Edge - We'll license and train you on our proprietary Hot Carbonated Extraction processes. Our "Drier. Cleaner. Healthier ®" technology will help you attract, delight, retain and get referrals from customers in ways that the "Soak & Suck" cleaners simply cannot!

Multiple Service and Product Revenue Streams - We don't stop with superior carpet and upholstery cleaning. From professional home care treatments to use between cleanings to our new floor tile and stone care system- you can offer it all to your customers!

Low Initial Investment - Great terms on our easy-qualify in-house financing.

Quickstart - We'll provide you with turn-key equipment, training and coaching.

Scalability - You can start with one van and build to 20+. Most franchisees start based out of their home. Single and multi-units are available.

Recession resistant, Cash based revenue model - Customers know and trust the Chem-Dry name brand and will return year after year.
Chem-Dry, the world's largest carpet & upholstery cleaning company, has been ranked #1 in our industry by Entrepreneur Magazine for 19 consecutive years! This is a family friendly business that has provided many franchisees with the lifestyle of their dreams. We offer real, tangible, recession-resistant, honest services.

Qualifications/ Investment
Packages start at $12,000 down

Initial Investment Range: $25,275 - $216,550 (depending on equipment and territories purchased)

No industry experience necessary

Previous business ownership or other business experience preferred

Must pass a criminal, driving record, and sex offender registry check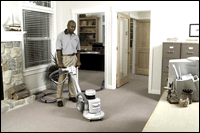 Company Details:
Business Established: 1977
Franchise Since: 1978
Number of U.S. Franchise Units: 2547
Company Owned: 0
Training and Support:
As a Chem-Dry franchisee, you will have the opportunity to take part in the many world-class training opportunities offered by Harris Research, Inc.
Initial training includes 5-day comprehensive hands-on training in Logan, UT.

Ongoing training includes the annual National Convention, regional mini-conventions and retreats, and communications through a monthly newsletter and franchisee intranet.