Computer and imaging supplies account for over 50% of the total office products purchased by most businesses, and 90% of office activities involve creating and using paper documents. By partnering with a brand leader, franchisees develop relationships with satisfied customers from all industries, including health care, financial services, law firms and a host of other professional office environments.
Because we are driven by a desire to have each of our franchisees training is important and ongoing part of Cartridge On Wheels. All of our franchisees receive training at our corporate headquarters as well as within their territory. We teach you how to manage your business and market the thousands of products we offer. During your training at our home office you will learn:
How the full Cartridge On Wheels customer experience works.
How to become an Imaging Supplies Specialist tm
To manage a truck route and inventory system
About advertising, marketing, customer retention and accounting procedures
In addition, you will meet the support team who are always available to help with your questions. As a working office you will be able to learn in a real life environment. When you leave, you'll have a full understanding of how to provide all types of mobile printer solutions tm. We also work with you in your protected territory to identify potential customers and promote your business. This one-on one training helps make sure that your franchise is getting off to a quick start.
Cartridge On Wheels provides one of the hottest markets for repeat sales, because printer supplies are always in demand. Grab you slice of the $60 billion imaging industry now with Cartridge On Wheels!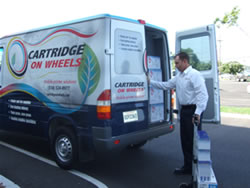 Income Opportunities – Tap into a Rapidly Growing Market
Watch your business grow with scalable multi-unit growth opportunities
Mobile business model instead of high-priced retail locations
Business-to-business with Monday to Friday Schedule
Quality products are outsourced to our specifications
Extensive training plus ongoing education and support
Affordable turnkey start-up costs
Minimal inventory requirements
Small staffing requirements = lower employee costs
We sell almost any ink or toner cartridge ever made
Cartridge On Wheels franchisees are also eligible for government guaranteed loans through the Small Business Administration Loans Program.
When you become a Cartridge On Wheels franchisee, you'll receive everything you need to get you business rolling. Cartridge On Wheels will back you up with training and support for the lifetime of you business. You'll receive: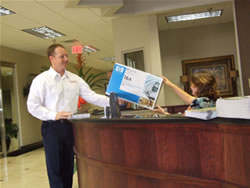 A full-color, graphically wrapped delivery van complete with computer. This van serves as you office, warehouse and mobile billboard, giving you low overhead and convenience. You can operate with a single truck or expand your business into multiple trucks with a sales staff.
In-depth business training. Training focuses on establishing, managing and operating your new Cartridge On Wheels mobile printer solution business. The training includes both classroom sessions and on-the-job practice.
Detailed operations manuals. These training and reference tools are an invaluable source of information.
On-site assistance. A Cartridge On Wheels also provides system-wide training at least twice a year to keep you current on developments in the imaging industry.
Experienced corporate staff. You'll have the support of more than 20 years of industry experience backing up your business.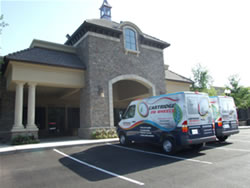 Own a mobile business that's in high demand, provides convenient services, and helps improve the environment! Cartridge On Wheels, leader in the mobile printer supply and services industry for more than 12 years, in the only source for everything businesses need in order to print.
Cartridge On Wheels' mobile service allows for desktop delivery of a wide variety of ink toners, laser printer, supplies, and fax supplies. They truly are a complete service and supply solution, with more than 2,000 products available. And by giving businesses what they need, when they need it, at prices up to 20% off retail, first time customers become repeat customers.
Cartridge On Wheels offers super-convenient desktop delivery of the best products. The many products we offer are every make and model of printer, copier or fax machine ranging from leading manufactures like Hewlett Packard, Lexmark and Okidata, to our own brand, Discount Imaging, of remanufactured cartridges known for their quality and affordability.
We have the purchasing power of a large organization. Our supplies have been thoroughly researched allowing you to feel confident about the product you are offering. Our model allows you to focus on the sale and distribution of imaging supplies while someone else is assuring the manufacturing is running smoothly and product quality is not limited to a back office operation.
This Cartridge on Wheels franchise opportunity and other franchise business opportunities, businesses and franchises for sale on this web site are not to be considered as an "offering", "franchise offering", suggestion or recommendation by Franchise Leader™. This advertisement depends entirely on the truthfulness of the information provided by our advertisers which includes, but is not limited to, franchisers, franchise brokers, franchise consultants and business brokers. Franchise Leader™ recommends that you consult a lawyer, financial consultant, accountant or professional advisor before buying a franchise or business opportunity or any type of business. By using this form or any part of our website, you have agreed to all terms and conditions of Franchise Leader™. Please review our