Keep The System Simple
The equipment package, operational and business systems have been designed with simplicity in mind so the franchisee is able to focus on properly servicing every customer.
Training and Support
Our training program is geared towards helping you select the most qualified applicants. We also believe it is important to provide a pleasant and productive work environment, and we pride ourselves in establishing personnel policies and programs that promote longevity.
Initial training for the franchisee and it's manager for 6 weeks
Franchisor provides staff to assist in the opening of your location for 3 weeks
Operations Manual provided which outlines methods and procedures
Franchise support for the operations of the franchisee's business ongoing
Our Menu
Our signature items, Buffalo-style chicken wings and curly fries, have become incredibly popular and continue to trend even higher. As the popularity of chicken continues to grow… the taste for wings is exploding. The proprietary Buffalo Wings & Rings™ sauces have transformed chicken from a Sunday dinner item into a delicious lunch or dinner meal.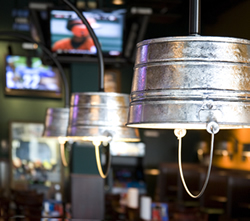 But our delicious chicken is not the only popular item on the menu. Buffalo Wings & Rings™ restaurants offer a wide menu selection. Award-winning food, including gourmet hamburgers, charbroiled chicken breast and tuna salad sandwiches, large hand breaded chicken tenders, tempting appetizers, homemade soup and chili and a variety of salads and side items are featured. A wide variety of beverages including beer, wine and liquor are also served.
Introducing new recipes is another key component of the strategy. Buffalo Wings & Rings™ works with an executive chef to develop new and exciting menu offerings.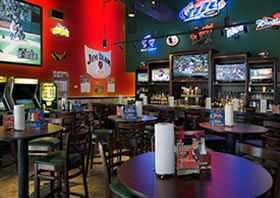 Franchising
It gives us great pleasure to introduce you to Buffalo Wings & Rings. When the first Buffalo Wings & Rings restaurant opened in 1984, nobody dreamt it would set the stage for the development of a national chain of restaurants.
Buffalo Wings & Rings continues to grow and prosper. Our recipe for success includes our signature Buffalo Wings and our relaxed atmosphere that is perfect for watching the big game or catching up with friends.
Atmosphere
The inside of our restaurants are designed to be fun and engaging. We provide a family friendly place to come for great food, to watch the game or to catch up with friends. Both the interior and exterior of our buildings are designed with a focus on customer experience and the Buffalo Wings & Rings Brand. An equal amount of planning is put into the design of our back of house systems to ensure maximum efficiency. The prep and cooking areas are designed to provide quick service and easy maintenance.
This Buffalo Wings & Rings franchise opportunity and other franchise business opportunities, businesses and franchises for sale on this web site are not to be considered as an "offering", "franchise offering", suggestion or recommendation by Franchise Leader™. This advertisement depends entirely on the truthfulness of the information provided by our advertisers which includes, but is not limited to, franchisers, franchise brokers, franchise consultants and business brokers. Franchise Leader™ recommends that you consult a lawyer, financial consultant, accountant or professional advisor before buying a franchise or business opportunity or any type of business. By using this form or any part of our website, you have agreed to all terms and conditions of Franchise Leader™. Please review our