A Simple Idea Becomes The American Dream.
Tony Conza had a big American Dream and a simple restaurant idea: Stack the finest quality meats, cheeses and toppings on freshly baked bread right in front of the customer. The idea for a name appeared when he noticed that the new hoagie sandwich was similar in shape to a "Blimp." He laughed and shouted, "BLIMPIE." And, the identity for America's best-dressed sandwich was born.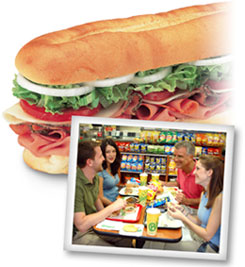 Wherever people enjoy good food, BLIMPIE is there.
The first BLIMPIE restaurant opened on April 4, 1964, in Hoboken, New Jersey. Today, BLIMPIE branded restaurants are located in shopping centers, convenience stores, gas station food marts, colleges, hospitals, and more.
"If you want an equity business that offers financial rewards and a business that you'll be proud to own, take my advice:
Don't Let This One Get Away
."
A proud past; a bright future.
For more than 40 years, BLIMPIE has been helping people like you to reach our business goals and lifestyle dreams. With more than 1,000 restaurants and a world famous brand name, now is your best time to join the BLIMPIE franchise family.
Additional services that BLIMPIE provides may include:
A BLIMPIE representative to address your operating questions.
The National Franchise Advisory Council to give you a voice with BLIMPIE corporate.
Proven operating systems to guide your business decisions.
Site evaluation assistance.
National purchasing power.
Marketing programs to drive traffic and repeat business.
Come join our team and live your American Dream.
At BLIMPIE, our mission is to provide a remarkable customer experience – delivering great taste and quality with every bite.
Complete our confidential questionnaire and a BLIMPIE representative will contact you.
© 2009 KBI Holdings, LLC • Scottsdale, AZ BLIMPIE®

This Blimpie franchise opportunity and other franchise business opportunities, businesses and franchises for sale on this web site are not to be considered as an "offering", "franchise offering", suggestion or recommendation by Franchise Leader™. This advertisement depends entirely on the truthfulness of the information provided by our advertisers which includes, but is not limited to, franchisers, franchise brokers, franchise consultants and business brokers. Franchise Leader™ recommends that you consult a lawyer, financial consultant, accountant or professional advisor before buying a franchise or business opportunity or any type of business. By using this form or any part of our website, you have agreed to all terms and conditions of Franchise Leader™. Please review our