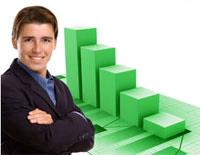 The Time is Now. The Opportunity is Solid.
Headquartered in Atlanta, Georgia, Apex Payroll has over 20 years experience in the payroll services and technology business. We have over 80 offices throughout the United States processing payroll for thousands of small, medium and enterprise businesses. Our cloud based technology is among the best in the business and our service and support are unmatched. Owning an Apex office gives you the head start you need to fulfill your dreams. The investment is modest yet the personal and professional rewards are outstanding.
Proven Concept. Unmatched Support.
Apex Payroll is a business based on a proven concept in an industry offering stable potential recurring revenue streams and high growth. Business owners are focusing on the numerous tasks and most importantly their main focus needs to be on what their company does best, which is not processing payroll…that's where we come in.
Apex Payroll and its' staff are pioneer developers and suppliers of payroll services and products in the payroll industry. We bring technology and personal service together to streamline the payroll process.
Apex Payroll Advantages:
Strong cash flow- No accounts receivable. Fees are collected from clients electronically each payroll.
Minimum overhead- The payroll business does not require an inventory of goods, only paper, check stock and toner is needed.
No storefront required- The business is not location-specific, expensive office or retail space is not needed or required.
Potential recurring revenue streams- It does not matter if the economy is in a recession or rapidly growing, Apex Payroll clients continue to pay for their payroll services, which are critical to their business.
Business-to-business concept– Because you will be selling and marketing to businesses and not consumers, you won't have the excessive marketing costs and can easily leverage your existing business relationships to grow your business.
Strong profit margins– The payroll industry features strong profit margins.
Recession-resistant– The payroll industry shows steady growth over periods of slow economic growth for the past 50 plus years (Source: Don Uhl & Associates).
Turnkey business– Apex provides everything you need to run the business such as technology, branding, marketing materials, know-how, training and support.
Low initial investment– Initial start-up fee of $30,000 plus minimal computer hardware.
Superior technology– Our cloud-based system eliminates the need for an expensive IT footprint. Our enterprise level payroll system allows you to focus on sales and service, while we focus on technology.



Click on Request Information for FREE info on how to open a Apex Payroll franchise today!
Please Note:
This Apex Payroll franchise opportunity and other franchise business opportunities, businesses and franchises for sale on this web site are not to be considered as an "offering", "franchise offering", suggestion or recommendation by Franchise Leader™. This advertisement depends entirely on the truthfulness of the information provided by our advertisers which includes, but is not limited to, franchisers, franchise brokers, franchise consultants and business brokers. Franchise Leader™ recommends that you consult a lawyer, financial consultant, accountant or professional advisor before buying a franchise or business opportunity or any type of business. By using this form or any part of our website, you have agreed to all terms and conditions of Franchise Leader™. Please review our
Terms & Conditions
for more information.