About Us
AlphaGraphics has been a leader in print and visual communications for more than 42 years. With over 240 independently owned and operated locations in the U.S. and eight countries, we set the standard for solutions in printing, marketing communications and document creation and management.
At AlphaGraphics, we do more than just design, copy and print--we help our customers communicate. The need for effective communication is stronger than ever – you need to connect, and we can help you do that well – we're the vital connection™ for your communication needs.
Why Us
Why Should You Consider Joining the AlphaGraphics Network?
Continuous training and support – no print or industry-specific experience required
Site selection and lease assistance
Assistance with interior layout and design
Budgeting, accounting and financial analysis programs
Buying power via global contracts with major suppliers
Complete advertising, marketing, public relations and promotional programs
Management consultation
Ongoing regionalized field and sales support
Toll-free support hotline
Global network for worldwide document distribution
Private Intranet with online support
Global Web site and Internet presence
Continuing research and development
Ideal Candidate
AlphaGraphics is looking to add to our 42 year old network with self driven individuals who are entrepreneurial yet can work within a proven system. This is a full time opportunity for folks who have a minimum 700 FICO score, $150K liquid and $350K Net Worth. You don't have to have a sales or marketing background but you will have to manage your sales team.
FAQ's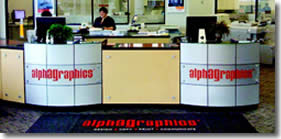 How Much Can an AlphaGraphics Business Center Earn?
Our business centers report the highest average sales in the print franchise industry, over $1.1 million per year*. Your success depends on you--your drive, initiative and commitment.
How Much Will it Cost?
The minimum investment necessary to start an AlphaGraphics business center franchise is $257,500 - $406,00 (USD) with a minimum liquid requirement of $150,000(USD).
Where Can I Locate?
Territories are available in all 50 states.
Next Steps
Unleash your inner entrepreneur by calling or e-mailing us today!
**From July 1, 2010 to June 30, 2011, AlphaGraphics Business Centers that had been operating for at least 1 year had an average gross sales of $1,005,559. Of the 213 Business Centers that have been operating for 1 year or more, 67 of the 213 Business Centers (operating for this period) met or exceeded these average gross sales. Please see our Franchise Disclosure Document for more details. Your financial results may differ.
This AlphaGraphics franchise opportunity and other franchise business opportunities, businesses and franchises for sale on this web site are not to be considered as an "offering", "franchise offering", suggestion or recommendation by Franchise Leader™. This advertisement depends entirely on the truthfulness of the information provided by our advertisers which includes, but is not limited to, franchisers, franchise brokers, franchise consultants and business brokers. Franchise Leader™ recommends that you consult a lawyer, financial consultant, accountant or professional advisor before buying a franchise or business opportunity or any type of business. By using this form or any part of our website, you have agreed to all terms and conditions of Franchise Leader™. Please review our