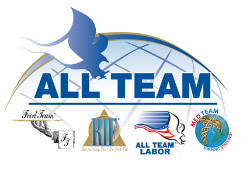 Welcome to All Team
All Team Franchise Corporation (All Team) has an established business model that gives our franchisees the opportunity to enter the fast growing staffing industry with the ability to operate under 4 reserved trademark names, all for one franchise fee (Food Team, Med Team, Labor Team, RIF Professional Recruiting). Additionally, we have established Preferred Vendor status with several large national accounts. Through our Blue Chip National Accounts program, all franchisees have the opportunity, from day one, to leverage our Preferred Vendor Status with all of our national accounts doing business in their territory.
All Team is a leading provider of temporary, part-time, full time and permanent placement staffing solutions for several industries, including:
Healthcare
Food Services
Hospitality
Labor and Industrial
All Team performs thorough background checks and drug testing on all hourly and management employees. Our proprietary certification program ensures that skilled and specialty workers are tested and qualified.
Why Staffing?
The staffing and employment services industry is BIG business – and it's continuing to grow! With current industry sales of $114 billion, and an expected 6% increase in sales in 2013, it's no surprise that the U.S. Bureau of Labor and Statistics (BLS) expects the employment services industry to be one of the top 10 largest job-growth industries in the country over the next decade.
61% of talent acquisition budgets went to staffing companies for contingent workers. (Aberdeen Group study)
In a recent survey of 2,000 staffing company owners, 50% expect revenues to increase as a result of the Patient Protection and Affordable Care Act (PPACA, aka Obamacare). Additionally, the respondents believe nearly 30% of their current key accounts will increase temp/contract staffing orders, as a result of new legislation. (R.A. Cohen Consulting)
Why All Team?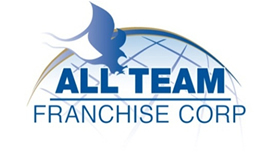 We offer an operational line of credit once the doors are opened. This helps new franchisees aleviate cash-flow issues; essentially, minimizing the need for additional start up money.
Our established Preferred Vendor status with national accounts gives franchisees immediate income potential.
We offer multiple revenue streams through 4 reserved trademarks under one umbrella – all for one franchise fee.
Ideal franchisee/candidate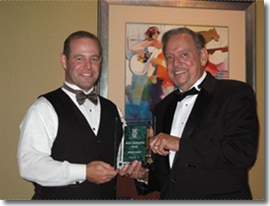 Our ideal franchisee has strong business acumen and leadership experience and they're ready to make a commitment to the business! Running a successful franchise office is highly rewarding, yet it takes time, effort and dedication – we LOVE franchisees who are positive, motivated and driven to excel!
They enjoy networking locally through business and industry associations, as well as through friends, associates, and relationships established by being 'of the community'.
They are comfortable with sales.
They are able and willing to follow a proven business model, while still being energetic and able to think creatively about how to build the business and our brand.
They are respectful, effective communicators with a solutions-oriented mentality.
They embrace the opportunity be the face of our brand in their market(s) and they take pride in their work, their reputation and the reputation of our All Team brand!
Ideally, they should be so excited about this business that they drive down the streets in their territory and 'see' opportunity everywhere! We foster a collaborative culture and our ideal franchisee loves being part of a larger franchise community that willingly seeks out others to share new ideas and offer support.
Franchisee Role
The fundamental role of the All Team franchisee is to grow the business in their territory through:
Retaining and expanding business with our established national accounts by maintaining, developing, and strengthening relationships through our Preferred Vendor status.
Acquiring new business - outside of our national accounts
Additionally, the role of the franchisee includes overseeing and managing all aspects of their business, with corporate support.
This All Team Franchise Corp franchise opportunity and other franchise business opportunities, businesses and franchises for sale on this web site are not to be considered as an "offering", "franchise offering", suggestion or recommendation by Franchise Leader™. This advertisement depends entirely on the truthfulness of the information provided by our advertisers which includes, but is not limited to, franchisers, franchise brokers, franchise consultants and business brokers. Franchise Leader™ recommends that you consult a lawyer, financial consultant, accountant or professional advisor before buying a franchise or business opportunity or any type of business. By using this form or any part of our website, you have agreed to all terms and conditions of Franchise Leader™. Please review our